 Thousands Join Smethwick Procession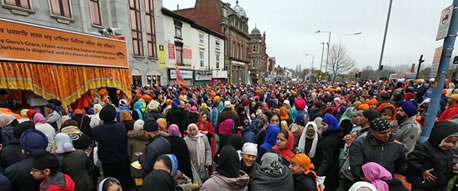 Sikh's across the UK celebrated the birth of the religion's founder – the first Guru Nanak Dev Ji., by a brightly coloured procession.
In Smethwick the Nagar Kirtan made its way from West Bromwich High Street to the Guru Nanak Gurdwara with eight of Sandwell's Sikh temples taking part in the parade. The beat of loud drums and was led by a decorated float carrying the Sikh Holy Scriptures, Sri Guru Granth Sahib Ji.
Gurdwaras Sandwell Parmjit Singh Dhillon, Coordinator of the Council of Sikh. said: "A great deal of work has gone into organising this event and I am grateful for the support of the members of the entire local community Sikh and non-Sikh, all related authorities, including Sandwell Council and West Midlands Police.
"The Nagar Kirtan will be a very joyous occasion and I hope we will be able to celebrate this event with minimum disruption to residents, business owners, services and other road users."