 Event Aims to Reclaim the Area

Caldmore Traders Association has continued with their 'Time for Change' project aimed at restoring pride in Caldmore Village. The event follows from the previously successful 'Reclaim Your Pavement' event in which village traders and residents completed an organised clean-up of their premises while tending to the pavements outside. The next step in the mini-makeover initiative will see Caldmore Village traders and residents reclaim Caldmore Green from misuse anti-social behaviour.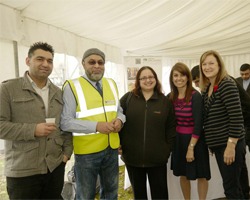 The event had been organised to re-invigorate the local community and aims to re-establish Caldmore Village Green as an amenity for everyone to use and enjoy. All those taking part celebrated their efforts and achievement with a communal lunch on Caldmore Green with music and entertainment for invited guests.
Ali Mahmood, Chair of Caldmore Traders Association said: "We want traders, residents and visitors to be able to enjoy Caldmore Village Green as somewhere to meet and relax. We're sending a message that we don't want anti-social behaviour to spoil things for traders, residents and visitors."
Reclaim Your Green follows on from the successful re-opening of Caldmore Village's Police Community Hub, following pressure from Caldmore Traders Association and the local community and comes in a month when Caldmore Village was able to announce that it is bucking the national trend for local shops to close – Caldmore Village boasts full occupancy and offers over 130 different trades and businesses.