 Pakistani Taliban Have Claimed Responsibility For The Suicide Attack
A blast caused by a suicide bomb attack on the Pakistani-Indian border killed 61 people on November 2nd.
Responsibility for the attack was claimed by the Pakistani Taliban, who said the attack was in response to the Pakistani army's actions against the Taliban's positions along the Pakistan-Afghan border.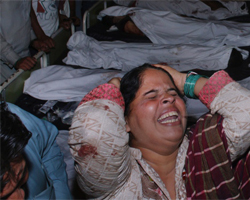 The bombing took place in a car park in Pakistan approximately 500 metres from the Indian border, leaving upwards of 70 people critically wounded.
"I was sitting in my office near the border when I heard the blast. I rushed to the scene and saw scattered bodies, injured men, women and children and smashed cars," a Pakistani intelligence source said.
Among the dead were ten women and seven children, and eight members of a single family.
Haider Ashraf, a Lahore officer, said some paramilitary troops were among the dead and wounded. General Tahir Javed, the paramilitary forces' provincial director, confirmed that three soldiers had been killed. No Indian troops were harmed in the attack.
Allegations have been made against Pakistan by India, who accuse the country of sponsoring and encouraging jihadist groups in the region to travel into Indian territory to perform attacks against the Indian army. Pakistan has denied all such charges.
The Pakistani Taliban group claiming responsibility for the attack have indicated that the suicide attack relates more to their fight against the Pakistan government and has nothing to do with India.
Senior Pakistan Taliban commander, Gilamn Mehsud said, "We claim the Lahore suicide attack".
"Our side is safe. We are alert, have increased our security, we are in constant touch with district officials and state police," said Ashok Kumar, inspector general of India's Border Security Force guarding Wagah.
According to another Indian security official this is the first major attack in Pakistani Punjab in months and he said he considers an explosion in the India-Pakistan bor
der to be of a much more serious nature than a similar attack on the border between Pakistan and Afghanistan.
The Wagah border crossing near the city of Lahore is a popular attraction for civilians and tourists alike, where hundreds of people attend the daily parade and flag-flying ceremony on their respective sides of the border.