 Will Make Crown Hill a Local Centre of Excellence for Sport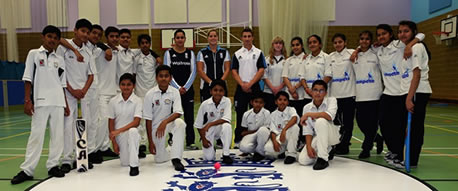 England cricketers James Taylor, Katherine Brunt and Sonia Odedra were the star guests at the unveiling of a new £1 million cricket facility in Leicester yesterday which is designed to provide a major boost for recreational cricket in the city.
The trio took part in a coaching session with junior cricketers from Crown Hills Community College which has been rebuilt at a cost of £21 million under the Building Schools for the Future PFI Initiative and was officially opened by the City's Mayor, Sir Peter Soulsby, and the ECB Chairman Giles Clarke
The project included a £1 million investment by ECB and Sport England to develop a new multi-purpose sports hall offering state-of-the-art cricket facilities to students from the college, the local community and talented young cricketers from across the East Midlands.
ECB Chairman, Giles Clarke, said: "The delivery of this project has been a team effort and we would like to thank the Principal and staff at the college, Leicester City Council, Sport England and Leicestershire and Rutland Cricket for their wholehearted support.
"This is a fantastic facility which will be of enormous long-term benefit to the college and play a major role in engaging the wider community in cricket and serving the needs of local clubs.
"It also represents a key part of our wider plans to engage more closely with the Asian cricket community at a national level and raise the standard of cricket facilities and pitches in urban areas."
Director of Sport and Assistant Principal, Doug Keast, said: "We are extremely grateful to the England and Wales Cricket Board and Sport England for the generous support because the multi sports hall is twice the size of a facility normally provided by the Building Schools for the Future programme.
"There is no doubt that the new facility is playing no small part in developing the skill level of our students resulting in the success achieved by our girls' and boys' cricket teams.
"Crown Hills is proud of the fact that we are a strategic centre of excellence for cricket. This sits neatly with the Local Authority's vision of creating sporting areas of excellence from the BSF programme. We are working closely with Leicestershire and Rutland Cricket (LRC) in the development of the game and all the Leicestershire age-group squads use the facility.
"The School Sport Partnership and Leicestershire and Rutland Sport also recognise our growing prominence in cricket and have used us as the site for their level 3 (County wide) cricket competition finals, all facilitated by Crown Hills students who received cricket umpire training from LRC."
Sport England's Property Director, Charles Johnston, said: "We are pleased to be partners in this high quality project which will provide a focus on cricket development for students at the college and in local clubs. This project is of strategic importance because Crown Hills Community College is the only specialist sports college