 A Conversation With Zainab Jagot Ahmed

Prior to becoming a mummy, Zainab Jagot Ahmed worked in marketing for almost 10 years in the fashion, entertainment and retail industries. Having always been passionate cook, Zainab made sure she found the time to cook delicious meals after work and on the weekends.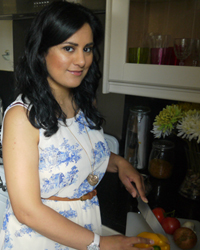 "I find cooking to be really relaxing, especially after a long day at work. Just play some music, pass me an onion, shut the kitchen door and I'm in my own little world."
However, after the birth of her daughter, Zainab felt inspired to turn her attention to cooking not just delicious home-made food, she also began investigating the nutritional value of food, to ensure she was cooking the healthiest meals possible for her daughter.
"I wanted to give my daughter the best start in life which is why it was vital for me to know exactly what vitamins and minerals were going into her diet. I never really paid much attention to the nutritional value of food before, so I can thank her for the fact that we all eat healthier now as a family." Sitting down with The Asian Today's Hifzha Shaheen, she explained why she found the need to write her latest book, Easy Indian SuperMeals for Babies, Toddlers and the Family.
What made you write the book?
I have always loved cooking. I love how you can take a few ingredients and transform them into an amazingly tasty meal. However, after the birth of my daughter I turned my attention to the nutritional benefits of home cooking, an area I had not really focussed on.
I began searching for Asian-influenced baby food cookbooks as I wanted my daughter to have a broad palate and wanted her to be in touch with her culinary heritage. However, after plenty of Googling, I could not find anything. So being an avid cook, I decided to write my own book based on what my ideal weaning cookbook would include.

Who is the book aimed at?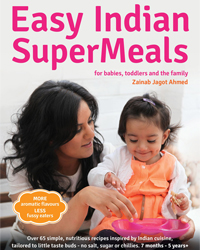 Easy Indian SuperMeals is aimed at anyone who would like to try weaning their child with aromatic spices to broaden little palates from infancy. This could be expectant mums, new parents or even parents who would like to try weaning their next baby differently to their first or second.
With nutritionists recommending a reduction in the amount of salt and sugar children consume, aromatic spices act as a wonderful substitute adding lots of flavour to meals. Children who enjoy eating tasty, flavoursome meals are also more likely to have a well-balanced nutrient-rich diet, and have less fussy eating behaviours as they grow older – like my daughter.
Why do you think second generation Asian's are more focused on the nutritional aspect of food than the older generation?
We have easy access to so much information these days. Not like the older generation. We can simply pull out our phones and Google a question to get an answer. The older generation did not have such easy access to information about nutrition, salt and sugar recommendations for babies, well-being and so on. I think if they did, we would all have been weaned very differently as babies.
I also think with such important information at our fingertips there is no excuse for ignoring it.
Any advice for expectant parents?
Enjoy, enjoy and enjoy some more! Weaning is an incredibly exciting time for both parents and little bubbas. It can be frustrating at times but when you see your little one's face light up after eating something you have prepared, it is the best feeling in the world!
Easy Indian SuperMeals for Babies, Toddlers and the Family is available to buy now from Amazon.co.uk and Waterstones.com (RRP £14.99.