 Bad Blood" led a thug to spearhead a robbery attempt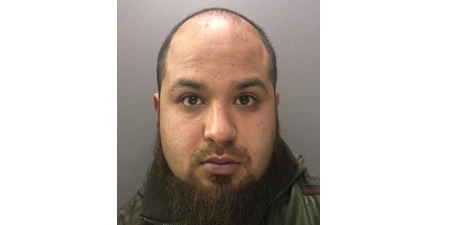 Bad Blood" led a thug to spearhead a robbery attempt on a family newsagents that saw a shop-keeper bludgeoned with a metal bar.

Yasser Hussain, from Chartist Road in Washwood Heath, was among a group of men who charged into Washwood Heath News on 29 December 2012 and demanded till takings.
He threw a flurry of punches at a 25-year-old staff member before turning on the victim's 19-year-old cousin when he arrived to investigate the disturbance.

Birmingham Crown Court heard that an associate of Hussain's – who police believe fled to Pakistan soon after the raid – brandished an iron bar during the melee and left the shop-keeper with a nasty cut after striking him across the head.

The 26-year-old tried playing down his role in the attack but  was jailed for four-and-a-half years after being found guilty of attempted robbery and two counts of wounding at an earlier trial.

West Midlands Police Detective Inspector Ben West said the case highlighted 'joint enterprise' laws that can see offenders jailed for simply being with someone who commits an armed offence even if they aren't carrying a weapon themselves.

He said: "Hussain tried claiming he merely threw a couple of punches, made no demands for money and was not armed. However, he travelled to the shop knowing full well violence would be used in an attempt to take money and that makes party to the armed robbery attempt…it's no defence to later say you played a lesser role.

"There was bad blood on the part of Hussain towards the family run business – he didn't pick the shop at random – and was seen on security cameras lashing out at the victims.

"Tackling business crime is a priority for West Midlands Police: shop keepers should be free to go about their daily business free from fear of attack and as this stern sentence illustrates the courts will come down hard on offenders."

The jury earlier heard how the older victim recognised Hussain as a local "troublemaker" – though he has no previous convictions for robbery – when he walked into the shop at around 4.40pm.

One accomplice shouted "give us your money" before a fracas erupted involving up to 10 men as other members of the family-run business ran to help.

The attackers eventually fled empty handed and, four days later, Hussain was arrested from his home address.

He initially denied being there but was picked out during an ID procedure and, when shown CCTV footage, changed his story but only admitted to playing a peripheral role. However, last September he was found guilty by a unanimous verdict.