 PAKISTAN'S CULINARY DYNASTY IN LONDON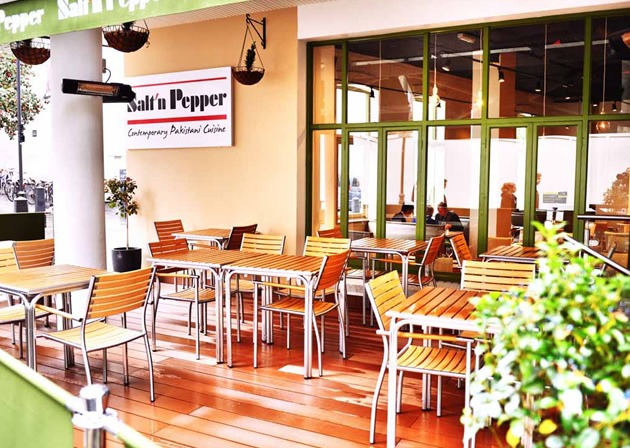 London's new eatery serves authentic Pakistani cuisine in a contemporary setting
Salt'n Pepper aims to re-educate diners about what authentic Pakistani food truly is
Pakistan's distinguishable regional cooking traditions are all brought under one roof offering a unique experience for diners
It is generally accepted that London has the best curry and Tandoor cuisine outside of Asia and most recommendations direct tourists towards the city's Brick Lane. This can no longer be considered the case, with a number of quality pan-Asian establishments popping up across the city in recent years.
The most exciting of these recent additions to London's gastronomic scene is the opening of Salt'n Pepper London, the first overseas restaurant of Pakistan's revered Salt'n Pepper Group. The group was established over 30 years ago by the renowned hotelier, restaurateur and food writer Mr. Mahmood Akbar, with the first restaurant launch in Lahore in 1983. The restaurant group has since become a well-respected household name and is considered Pakistan's most recognised and distinguished hospitality brand, with ten restaurants in most major cities in the country.
Salt'n Pepper takes as its mission statement the desire to bring the authentic flavours and culinary sensibilities of traditional Pakistani cuisine to the UK, with the aim being to re-educate both locals and visitors to London about the bona fide tastes and traditions of Pakistani dining. The restaurant aims to set this unique cuisine apart from its Indian neighbours, to project its own identity within the world's culinary landscape.
The new, modern-furnished restaurant at 32 Orange Street, located in the heart of London's vibrant theatre district, offers diners a choice of much-loved classic Pakistani dishes with traditional influences from the Punjab, Sindh, Turkish, and Persian regions, by presenting these time honoured dishes in a contemporary setting. Positioned well amongst some of the world's best loved theatres, within shouting distance of Trafalgar Square and Piccadilly Circus, it is perfectly convenient for pre-theatre and family dining alike.
The country's distinguishable regional cooking traditions are all brought under one roof offering a truly unique experience to customers. Pakistani chefs, including BBQ, Tandoor and even Biryani specialists deliver rich, vibrant yet healthy dishes that truly reflect the nation's ethnic and cultural diversity.
Salt'n Pepper has adapted historic and traditional cooking methods and presents these delectable dishes with simplicity, combining the freshest ingredients with all natural flavours and spices to bring diners a truly authentic feast for the senses. Some of the restaurant's acclaimed regional specialities include kebabs, karahis and biryanis, prepared to Mr Mahmood Akbar's secret, signature recipes.
The restaurant caters for up to 100 guests in the main dining area with a further 25 on a specially customised covered deck, rare for its location making it ideal for summer alfresco dining. The restaurant's light interior with its clean and minimalistic aesthetic is set against a backdrop of pastel tones and fresh flora, creating a calm oasis for customers in a bustling district, appropriate for a casual and sociable dining experience with a gentle excitement and energy.
Mr Mahmood Akbar, Founder of the Salt'n Pepper Group said: 'London is a vibrant mix of cultures and cuisines and we did not want to be just another "curry house" in the city. What we bring to diners in London is authentic Pakistani taste that is the same here and in Pakistan, but presented in a contemporary way to appeal to the UK's tastes.  We have been serving an artisan audience for over 30 years and we look forward to introducing Pakistani cuisine to London diners.'
Delicious, freshly prepared lunch platters, bursting with

mouth-watering flavours and seasonal ingredients, are available Monday to Friday, 12pm – 3pm, priced from £9.20. Dine in or take-away.