 Rhiane Tamna-Francois was diagnosed leukaemia in September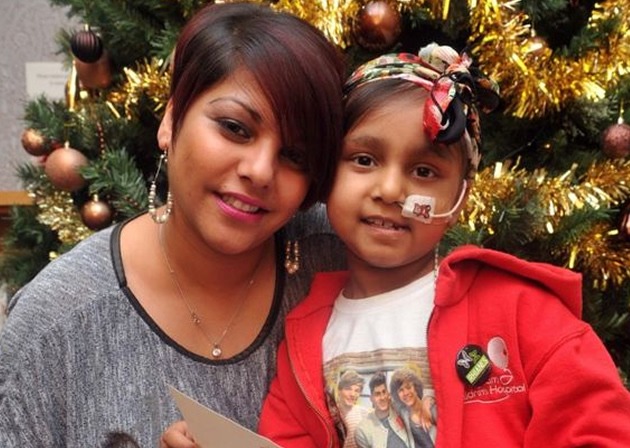 Queues were seen outside a Sikh temple in Coventry in renewed hope for a bone marrow match to fit a seven-year-old leukaemia sufferer.
More than 50 people turned up to give bone marrow samples at Gudwara Guru Nanak Parkash Sikh Temple in hope to find a match for Rhiane Tamna-Francois. The youngster was diagnosed with a very aggressive form of leukaemia in September and has been battling with the condition ever since being admitted to Birmingham Children's Hospital.
The donor drive was organised by the UK's leading blood cancer charity and bone marrow register, the Anthony Nolan Trust, who has highlighted the situation of the low number of ethnic minority donors. Rhiane's case has become extremely urgent after doctors warned that if the latest batch of chemotherapy was not to work than the only hope was an exact match of bone marrow.
Rhiane's mother, Talisha Tamna, 30, said, "It was amazing to see 53 people turn up for the swab test. It really did give me renewed faith and hope that we can find a match and help Rhiane get well. It was truly wonderful to see so many people on Saturday who would be willing to be a donor for my daughter. I would just like to appeal for more people from the Asian community to come forward at the next event.
Rhiane was also given a surprise when The Queen wrote to her sending her best wishes to the seven year old. Harjit Kaur, Rhiane's aunt and a teacher at the Chandar Primary School, met Prince William while on a visit to Birmingham and gave him a letter written by her niece. "I was so touched by the way he reacted. He really listened to her story and was so attentive." She then decided to write to Her Majesty about Rhiane's condition and her search to find a bone marrow. On behalf of The Queen, a Lady-in-Waiting wrote, "Her Majesty was very sorry to learn that your niece is so unwell and was touched to hear of your tremendous efforts to enlist the help of donors. I am asked to convey to your niece the Queen's good wishes, and I am sure that Rhiane derives great comfort from the love and support of you and her parents and also from the wonderful care given by the dedicated team at Birmingham Children's Hospital."
The next swab test is due to be held on Saturday 25 January at the Belgrade Theatre in Corporation Street. Anyone who would like to provide a swab will have to attend between 1:30 pm and 6 pm. This was set up before the publishing of chemotherapy results in the belief that a match could be found now rather than waiting months down the line.