 The money coming in has already helped to pay for some of the aid being delivere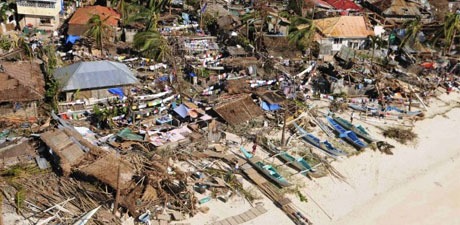 A month on from the Super Typhoon Haiyan hitting the Philippines, donations have reached over  £57 million; the Disaster Emergency Committee (DEC) has announced.
The money coming in has already helped to pay for some of the aid being delivered. Charities, which have joined with the DEC, include Christian Aid, The British Red Cross, Islamic Relief and Oxfam. DEC member agencies and partners on the ground have provided assistance including food, clean water and temporary shelter materials to over half a million people.
DEC Chief Executive Saleh Saeed said, "The public's generous donations are helping us to reach more and more people each day who lost so much in the disaster and urgently need life's essentials such as clean water, soap and food. Two weeks on from the initial devastation the funds we are receiving will also mean we can support people to get back on their feet and start to rebuild their lives. In a seemingly impossible situation, aid agencies are finding ways to get life-saving aid to those who need it.  The logistical challenges are huge, but with the support of UK donations we are overcoming them.
'We are now calling on the Philippines government and United Nations to prioritise road clearance and set up key distribution locations to enable aid agencies to coordinate the relief effort as effectively as possible.'
Over 13 million people were affected when the island country was hit by the worst storm ever recorded, with more than 600,000 losing their homes, and millions left in desperate need of food and water.
Islamic Relief has so far helped to distribute food and water to over 32,000 households around 160,000 people. They have also transported family sized tents to their base in Cebu, where they will be distributed as temporary shelter to those made homeless by the typhoon.
Zaid ul Rawni, who was part of the initial response team when the disaster hit the island said, "'ve seen for myself how great the needs are, and how much it means to people when they receive assistance. There are still so many people yet to be reached though."
Justin Morgan, of Oxfam said: "Aid Agencies on the ground are providing as much support to farmers at this crucial time as possible.  Oxfam teams are working in Samar and Leyte, two key rice producing areas, supporting farmers in clearing and restoring farm production areas. It is, however, essential for international donors to give more money for agriculture support right now so that farmers can plant more rice, diversify their crops and repair key infrastructure and therefore prevent an even greater food emergency down the line."
Coree Steadmen, Christian Aid's Emergency Manager in the Philippines said: 'The devastation here is unimaginable.  Aid workers are walking for hours and not seeing a single standing building. Most roads are covered with fallen trees and collapsed houses. Where roads are accessible, they are grid locked with cars fleeing the area. Getting aid through is tough, but we are resourceful and we will find a way.'
Mark Astarita, Director of Fundraising at the British Red Cross said: "We are very moved and humbled by the remarkable response of the British public to the awful tragedy unfolding in the Philippines. Although £57 million is a staggering amount, the task ahead is mammoth. Our teams are working around the clock to bring assistance to the affected areas. Sadly the needs are enormous so we urge you to please keep giving."
The total UK aid given by the UK government alone is £55 million.