 Muhammad Haroon Tariq secures 47 A's in Exams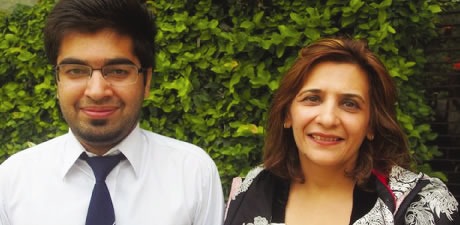 COULD Muhammad Haroon Tariq be Pakistan's brainiest student?
The 18-year-old may well have broken the world record after securing a total of "forty seven As" in both O Level and A Level International General Certificate of Secondary Education (IGCSE) examinations, according to reports.
A student of Froebel's International School, Islamabad, Haroon Tariq's achievement has placed Pakistan in the global spotlight. Established in 1975, Froebel's is a domestic franchise of private schools with eight branches across Pakistan.
Haroon's subjects spanned both the humanities and sciences including: Human and Social Biology, Islamic Religion and Culture, Physics, Chemistry and Global Development.
In the O Levels, the previous world record was 28 As which was also held by a Pakistani student Zohaib Asad. However, Haroon Tariq obtained 38 As in O levels and a total of 47 As in both O and A level exams over the past three years.
In a telephonic interview, the God-gifted and outspoken Haroon said: "My teachers as well as both my parents thoroughly supported and guided me during my studies".
"There is ample talent in Pakistan. The Government should allocate scholarships to exceptionally endowed students for higher studies abroad." 
Born on 16th March 1994 in Peshawar, Haroon Tariq planned his achievement well.
During last three years, he studied 50 different subjects in O and A levels. Achieving 47 As was an uphill task since the Urdu-speaking Haroon had to study different languages including English, Spanish and French.
School Principal, British-Pakistani National, Mrs. Shahmina Kamal said: "I feel honoured to be instrumental in shaping a competent youngster for tomorrow's Pakistan".
 "Surely enough, in future, Pakistan will have more students setting world records of academic excellence".
Disappointingly for Haroon, his teachers, and the entire Pakistani nation, the Guinness World Records does not record academic qualifications.
Haroon studies seven hours daily, eats and sleeps well, prays five times daily, and plays football on the weekends.
He commented: "I actually love football and Manchester City is my favourite team in the English Premier League." He does find time for elocutions at the school and likes to debate on Pakistan studies.
In the midst of felicitations from all over the world, Haroon Tariq remains sober and humbled. "I want to study engineering in future, but haven't decided whether to specialise in software engineering or aeronautical engineering," he confessed.
The tall and lanky, bespectacled prodigy has set a standard that would be tough to match for a long time to come.