 Pavlo Lapshyn sentenced for murder and bombing mosques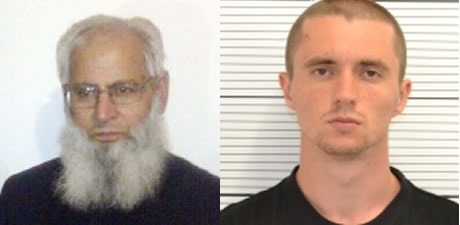 A UKRAINIAN student who moved to Birmingham after winning a work placement contest has today been sentenced to 40 years in prison for stabbing an 82-year-old grandfather to death.
Pavlo Lapshyn landed in Britain on April 24 to further his studies and gain industry experience with a specialist Small Heath manufacturer.
But far from furthering his career, Lapshyn set about to "increase racial conflict" with a series of attacks on the West Midlands community.
At London's Old Bailey today (Mon 21 Oct) the 25-year-old admitted fatally stabbing Mr Mohammed Saleem as he returned from evening prayers in Small Heath on April 29 – and going on to plant improvised explosive devices near mosques in Walsall, Wolverhampton and Tipton.
The court heard how the self-confessed racist – from Dnipropetrovesk but in the UK on a year-long visa – would undoubtedly have gone on to ramp-up his bombing campaign had the manhunt not traced him to placement host company Delcam.
Detective Superintendent Shaun Edwards, from the West Midlands Counter Terrorism Unit, said: "We found part-made devices in Lapshyn's room – plus chemicals and bomb-making equipment – so it is clear he planned to place further devices with the intention of killing or maiming innocent members of the public.
"All three of the devices he detonated were powerful but his final attack in Tipton was the first to feature shrapnel and nails. He placed this near the mosque's car-park with the intention of hitting worshippers as they arrived for prayers – thankfully the service had been put back an hour so the mosque was largely deserted when the bomb went off.
"In interview Lapshyn stressed he was acting alone – not part of a wider cell or influenced by any group – and was keen to take credit for masterminding and carrying out the attacks. Our work is on-going with Ukrainian authorities to understand more about his background and we have officers in Ukraine probing his history."
Lapshyn – described as a 'competent' bomb maker – stabbed Mr Saleem three times in the back in what police believe was an opportunistic attack in Little Green Lane just after 10.30pm on April 29.
He planted the first of his improvised explosive devices – hidden in a child's lunchbox – by gates outside Walsall's Aisha Mosque in Rutter Street on June 21 and followed that seven days later by detonating an IED on a roundabout near Wolverhampton Central Mosque.
And on July 12 he packed hundreds of nails into a bomb placed on a rail embankment near Kanzul Iman Masjid mosque in Binfield Street, Tipton, which sent debris flying across the car-park and into a residential street.
Detectives investigating the initial Walsall blast trawled many hours of CCTV and managed to identify Lapshyn arriving at the scene with his deadly package and leaving minutes later empty handed.
More security camera scrutiny enabled officers to plot the Ukraine Metallurgical Academy graduate's route on a bus to Birmingham and an earlier service taking him into the city centre from Small Heath.
Supt Edwards added: "As a result, Small Heath was the focus of our efforts and we deployed officers in large numbers to carry out enquiries. On July 18, two local officers visited the offices of Delcam where staff identified the man caught on camera as Lapshyn.
"He was shown on CCTV carrying his IED past the Bullring and on busy bus routes. He didn't prime the Walsall bomb until he arrived at the scene, but the volatility of the chemicals involved meant there was a chance it could have gone off at any stage during his journey.
"We later found video footage of him conducting reconnaissance visits to his mosque targets in Walsall and Tipton, and we recovered mobile phones he'd adapted to trigger devices, chemicals and a coffee grinder he used to prepare the IEDs during a search of his room.
"Similarities between his description and that of the suspect seen running from the scene of Mr Saleem's death led us to quiz him over the murder. Documents were found on his computer linking him to that killing and in interview he admitted being the knifeman.
"This was a challenging investigation: Lapshyn was a loner who had only been in the country a matter of days before his first attack and so wasn't known in the community where he lived and worked.
"However, through exhaustive CCTV trawls, telecoms and financial investigations, and painstaking forensics searches of the explosion sites we were able to get a clear picture of Lapshyn's offences and pin him down."
Lapshyn won a work placement competition – based on a technical thesis – run by Delcam in April 2011.
Following his arrest, detectives found he'd conducted online research into chemical stockists in Birmingham back in 2011 and had far right extremist material on his laptop.
Lapshyn admitted murder, causing explosions, and preparing for acts of terrorism. He will be sentenced at the Old Bailey on 25 October.