 Human Appeal launches nationwide Sounds of Light performances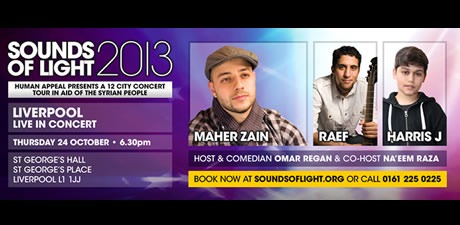 A leading international relief charity is set to screen harrowing footage depicting the suffering of the Syrian people as part of a nation-wide concert tour aimed at British Muslim families.
The UK based charity, Human Appeal, is presenting the 12-city Sounds of Light show in October and November (
www.soundsoflight.org
).
On Friday 1st November, this ground breaking tour will be stopping off at the Clyde auditorium, SECC, Glasgow, where you can join them to be part of this momentous event. The mixture of music, comedy and documentary footage from Syria is designed to raise awareness of the conflict in Syria.
The concerts – which are aimed at attracting family audiences – will be hosted by Na'eem Raza, a leading presenter from Islam Channel and well-known American actor and comedian, Omar Regan.
"Our plan is to punctuate the happy family atmosphere with these distressing stories from the daily lives of ordinary Syrian people and bring the harsh reality of this terrible tragedy home to British people," says Na'eem Raza. "Human Appeal has been doing some vital and amazing work in Syria. But we believe there is no place for complacency.
"Constant media coverage can sometimes numb people's response to disaster. No matter how much coverage this crisis gets, the people of Syria, still need humanitarian aid and that aid needs to be paid for by charities raising funds. We hope that Sounds of Light will touch the British people in a different way and raise funds for those in need in Syria."
Human Appeal hopes that every family enjoys the performances but leaves reminded of the suffering of other families across the world. The charity also hopes to raise in excess of £1 million during the course of the tour. 
The films, to be screened at the concerts, will tell the stories of families which Human Appeal first met in Syria during its launch of its 'Make Bread not War' campaign.
That trip was headed by Tariq Jahan, credited for calming tension in Birmingham during the summer riots of 2011, despite losing his son who had been killed by a hit and run driver.
Sounds of Light will launch in Reading on October 23rd and ends in London's Troxy on November 3rd. For more information and to buy tickets visit
www.soundsoflight.org