 Priyal Raja and Trishna Bharadia in line for prestigious MS Society Award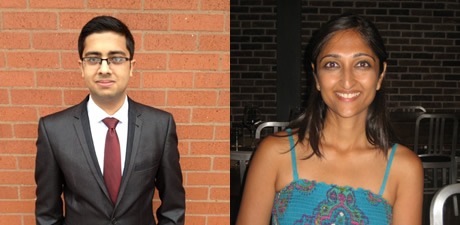 TWO inspirational multiple sclerosis sufferers have reached the finals of the prestigious MS Society Awards 2013. 
21 year old Priyal Raja is one of three finalists in the category of 'MS Young Person of the Year'.
Also in the running for an award is Trishna Bharadia, who reached the final of the 'MS Volunteer of the Year'.
The duo were nominated for the awards by MS Society support group, Asians MS.
Priyal was diagnosed with multiple sclerosis (MS) when he was 14 years and has also battled with epilepsy from the age of five. Whilst at Trinity School, he raised awareness of MS by organising events and speaking engagements to raise funds and educate his peers and local community. His positivity and bravery in managing his often disabling symptoms, gained him the admiration and support of his fellow pupils and teachers, and he was made head boy during his time there.
He hasn't let his MS deter him and managed to complete his GCSEs and A levels and is currently studying for a degree in Film Production. He has also worked as a journalist for various online magazines and assisted on a Bollywood film set in India. He also produced a documentary about MS called "Coping with MS", which highlighted the condition within the Asian MS community and MS community on a national scale.
Sanjay Chadha, founder of 'Asian MS', the MS Society support group, nominated Priyal.
He said: "Priyal has achieved so much at a young age and inspired his friends, family and community with his positive attitude and determination. There can be a stigma attached to having a chronic illness within the Asian community; however Priyal dispels any prejudices by always being open about his MS. His can-do attitude is a shining example to all who meet him from any community."
For Trishna, her charity volunteer work for the MS Society as an 'Asian MS' committee member in her local area in Buckinghamshire has seen her work tirelessly to increase awareness, information and support for young Asian people living with MS, by speaking at general information days and events for the Asian community. 
She has been the editor for the Asian MS quarterly newsletter since 2011 and has almost single-handedly developed it into the current publication, which is uploaded on to the Barts and The London MS Research blog read by hundreds of people from all over the world.
One of her nominators, a member of Asian MS, KantiKhalidas, added: "Trishna was diagnosed with MS in 2008 at the age of 28, but since then has become a positive role model for people within the Asian community, where illness can often be swept under the carpet. She is loud and proud about her MS, preferring to let other people living with MS know that it's not about what they can't do; it's about what they can do.
"She works hard to raise awareness, always with a smile on her face, and as editor of the Asian MS newsletter she has played an invaluable role in increasing communication between the Asian MS Committee and its members, as well as with the Asian community and wider MS community as a whole.
Trishna never fails to show her vigour and enthusiasm, devoting herself to enhancing awareness and understanding about the difficulties surrounding MS."
The MS Society Awards, this year sponsored by Next, were created to reward individuals and groups for their hard work in improving the lives of people affected by multiple sclerosis (MS). The judges for the 'MS Volunteer of the Year' category were looking for people whose services have impacted positively on people living with MS, volunteering through social events, advocacy, therapies or education and information.
The MS Society Awards 2013 will be held on Thursday 17 October at The Dorchester Hotel, London.