 Search on for Miss Birmingham 2013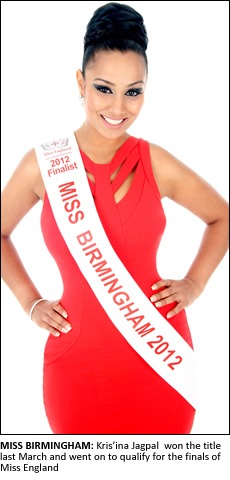 THE hunt is on to find the West Midlands' most glamorous ladies as the race for the title of Miss Birmingham 2013 hots up. 
Organisers are searching for girls from across the region who have what it takes to represent Birmingham for the next year. 
The winner will follow in the footsteps of the current Miss Birmingham, Kris'ina Jagpal, who won the title last March and went on to qualify for the finals of Miss England, picking up a special 'Miss Inspiration' award at the national event. 
She has since appeared in music videos for the likes of urban bhangra stars Goldkartz, DJ Harpz and Bups Saggu, graced magazine covers and attended countless glamorous events. But she has also put her title to further good use by giving inspirational talks to young people across the Midlands and helping to raise much needed funds for various charities. She is now preparing to crown her successor and will be attending events and nightspots across Birmingham over the coming weeks with a team of scouts to look out for potential candidates. 
The 24-year-old beauty, from Edgbaston, said: "It has been a real honour to represent my home city for the past year. I never expected to win but it has been such a great experience and has led to so many exciting opportunities. 
"There are so many incredible girls across Birmingham and I can't wait to help find the winner of Miss Birmingham 2013." 
The search for Miss Birmingham is much more than an old-fashioned beauty pageant or modelling competition, judges will be looking for someone who can be an ambassador for the city and help to raise the profile of many worthy causes across the West Midlands throughout the year. 
Chief Scout Kerry Capoverde said: "Birmingham is one of the most exciting and diverse cities in the UK and we know there are lots of beautiful and intelligent young ladies out there so choosing one winner will be very tough. 
"We had a great response to the competition last year but Kris'ina really stood out and has proved to be a great ambassador for Birmingham. We are really looking forward to finding her successor who can continue the great example that Kris'ina has set." 
The winner of Miss Birmingham 2013 will win a host of prizes including a photoshoot with a professional fashion photographer and will also qualify for the final of Miss England 2013, where she will get a chance to win a place at the prestigious Miss World competition.  
Contestants must be aged between 17 and 24-years-old and have until Friday, March 29, to enter the competition.
Auditions will be held for successful candidates when finalists will be chosen for the Miss Birmingham 2013 main event, taking place at The Crescent Theatre on May 5. 
This year also sees the launch of a new competition, Junior Miss Birmingham 2013, which will be open to 13 to 16-year-olds. 
Chief Scout Kerry explained: "When we have been scouting across the county a lot of the girls we approached were too young, it's so hard to guess someone's age these days.
"We decided to add a Junior element to the competition as the girls were all so keen to take part in a professionally-run catwalk show.
"The Junior girls get so much confidence and personal growth through the process as we introduce them to volunteering and charity work as part of the process."
Do you have what it takes to win Miss Birmingham or Junior Miss Birmingham 2013 or know somebody who does? Visit 
www.missbirmingham.co.uk
 to enter.