 Asif Haroon jailed for 32 months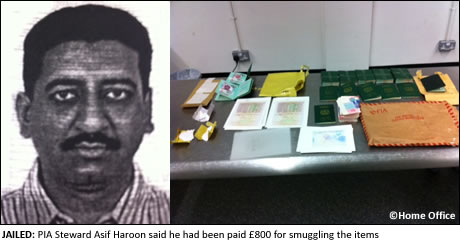 A STEWARD for Pakistan International Airlines (PIA) has been jailed after he was caught trying to smuggle dozens of fake passports into the UK.
Asif Haroon had flown into the UK on a PIA flight when he was stopped as he tried to pass through crew clearance controls at Heathrow Airport last November.
UK Border Agency officers found a host of counterfeit documents on him including over 30 fake Pakistan passports.
The 41-year-old from Lahore pleaded guilty to charges of possessing false identity documents and possessing articles for making false identity documents.
During a hearing at Isleworth Crown Court he was sentenced to 32 months in prison, and was recommended for deportation following his sentence.
The court was told Haroon arrived in the UK as a Steward from a PIA flight from Karachi on 25 November 2011.
Concealed under his clothes Haroon was found to be carrying an envelope containing 39 Pakistan passports with counterfeit biodata pages or with biodata pages removed, around 250 counterfeit UK residence permits and a range of counterfeit UK passport components including biodata pages, laminates and holograms.
Haroon admitted he knew what was in the package and admitted being paid around £800 for smuggling the items.
Senior investigating officer Charlie Monks, from the UK Border Agency's Heathrow criminal and financial investigation team, said: "Haroon sought to abuse his position as a crew member, thinking that UK Border Agency officers would pay less attention to airline staff. As a result he now faces a substantial period of time behind bars.
"There is no doubt in my mind that had Haroon not been stopped by our officers these documents would have ended up being used to create false identities, or help people work, claim benefits or stay illegally in the UK."