 Launch of Asian Football Awards 2012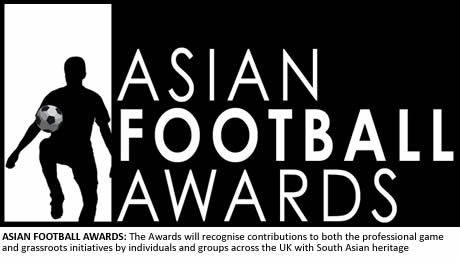 THE Asian Football Awards have been launched to celebrate the contribution made to the sport by the Asian community.
The inaugural award night, which is being supported by the FA and Kick It Out, will be held on 24 January 2012 at Wembley stadium and will recognise the outstanding contribution to both the professional game and grassroots initiatives by individuals and groups across the UK with South Asian heritage.
Awards will be handed out across 14 categories including Footballer of the Year, Grass Roots Heroes and Asian Woman in Football Award.
Organisers have already received a number of nominations for some well-known individuals including Muang Thong United defender Zesh Rehman, Ipswich Town striker Michael Chopra and Liverpool FC's Dr Zaf Iqbal.
Imran Hassan, Co-Founder of the Asian Football Awards said the awards were "fundamental" in helping to develop more professional Asian talent.
"We have seen positive movement within the development of Asians in the game," he said.
"We feel that recognition and acknowledgement of individuals and organisations is a fundamental part of developing more individuals in the professional game.
"I am delighted to be involved in the Asian Football Awards and look forward to celebrating all aspects of the game from investors, players, coaches and those involved behind the scenes."
The initiative has received praise from a number of bodies.
Danny Lynch Head of Communications at Kick It Out said the awards encouraged "greater involvement from groups and individuals that have sometimes been marginalised from the game in the past", while FA Equality Manager, Funke Awoderu added: "We are committed to football for all and look forward to welcoming the Asian football community to one of the world's most iconic stadiums for an evening that will not only celebrate success and high achievement across all areas of the game but act as an inspiration to younger generations."