 'Making Britain' to launch in Bradford on 22 November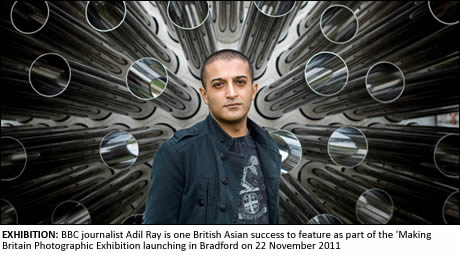 A JUDGE, poet, female rugby coach, a TA captain, artistic director and magician are just some of the success stories to be profiled by top photographer Tim Smith in a new exhibition to go on show this month at the National Media Museum in Bradford – and later on a national tour.
The "Making Britain" Photographic Exhibition, launching on 22 November, will profile a wide cross-section of well-known and not so well-known individuals of South Asian background in a visual celebration of their cultural, political, artistic and economic contribution to British life.

The event has been organised by QED-UK, an influential not-for-profit organisation which focuses on education, employment and training provider to eradicate poverty, disadvantage and discrimination and is now celebrating its 21st anniversary.
The participants will see their portraits hang alongside those of professional footballers, TV personalities and leading figures in the arts and politics.
Dr Mohammed Ali OBE, Chief Executive and founder of QED-UK, said: "It's so important to illustrate the positive integration of the South Asian community, particularly during these times."
Photojournalist Tim Smith's work has been exhibited nationally and internationally. His books include the groundbreaking 'Here to Stay,' a portrait of Bradford's South Asian communities, and 'Asians in Britain', which includes photographs taken over the past twenty years.
Tim said: "These photographs celebrate everything QED has worked hard for over the past 21 years. As a photographer I've been witness to this period of extraordinary change, where British Asians have moved from the margins to the mainstream. This new project is a fantastic opportunity to celebrate success stories that embody this transformation, and to illustrate how British Asians are a vital part of our contemporary, cosmopolitan society."
Bradford-based magician Shahid Malik was one of the subjects photographed and has mesmerised audiences around the world – from Mombassa to Monte-Carlo, Brighton to Bangkok, and Iceland to India.
Awarded the supreme accolade of 'Magician of the Year', holder of three world-records for his death defying Escapology Stunts and the subject of Channel 4 TV special 'All Tied Up', his parents brought him to Bradford aged four, when his dad came to work in the mills before working as a bus conductor and driver.
He took up magic as a hobby in his teens, but when he hit the working men's clubs in the 1970s, his parents were disapproving. He went on to have a huge career as an escapologist and magician and this year will feature on Channel Five's 'The 50 Greatest Magic Tricks of all Time' featuring alongside the likes of his hero, David Copperfield.
Shahid Malik: "We were one of the first few Asian families in Bradford. Magic crosses boundaries; I never had problems playing in the working men's clubs when I started out. In fact, they were very welcoming. Life is what you make it. I'm the kind of person that gets on with it and have no problem with who or what I am. If you just think of yourself as just one of everyone else, you can get on in life."
Making Britain: A Photographic Celebration of British Asian Integration – National Media Museum, Bradford, 22 November -2 December 2011