 Restaurant Launches new curry scented perfume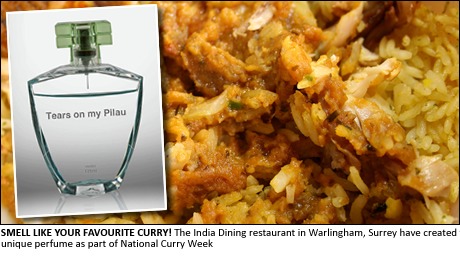 THE latest beauty accessory wafted onto the British High Street yesterday – curry scented perfume!
'Tears on my Pilau' is described as a "delicious" mixture of fragrant oils, exotic herbs and a blend of Indian spices.
Its top notes consist of cumin, conifer resin and bergamot, while middle and bass notes include turmeric, tobacco sauce, chilli and fenugreek.
The unisex scent – which lingers for up to 24 hours – is still being tested but could hit the High Street in as little as 12 months. When it is released, the perfume will retail for £39.99.
It was created by kitchen staff at India Dining restaurant in Warlingham, Surrey, to mark National Curry Week.
A spokesman for the restaurant said he wanted to recreate the smell of a "real Mumbai street".
"This is our first excursion into the world of perfumery, and we think we've done a fantastic job," he added.
"This sophisticated fragrance is subtly infused with the smell of curry. We're not talking overpowering curry paste, but rather delicious tones of cumin and conifer amidst a secret combination of exotic herbs and spices."