 Two year sentence for Aqeel Khan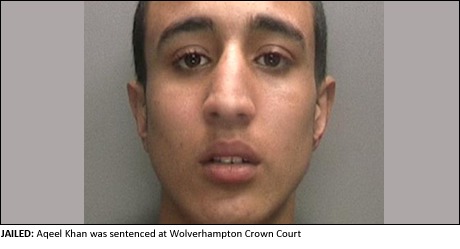 AN EIGHTEEN year-old Walsall teen has begun a two year sentence for attacking two teenage girls near the arboretum this year.
Aqeel Khan, 18, from Eastbourne Street, Walsall was sentenced at Wolverhampton Crown Court for robbery and attempted theft from two teenage girls in April this year.
The girls aged 15 and 17 were waiting for a bus outside Walsall arboretum on Lichfield Road around 7pm on the 29 April 2011 when they were approached by Aqeel and another male.
Aqeel assaulted one of the girls before stealing her mobile phone and tried to take the other girl's phone, who fought back.
Fortunately the girls were not seriously injured but were left shaken and traumatised by the incident.
Aqeel was found guilty of robbery and one attempted theft from person and now begins a two year jail term.
DC Pindi Matharu, the investigating officer from Walsall police, said: "Fortunately these crimes are very rare and we are extremely pleased with the sentencing outcome.
"To target two teenage girls is an appalling crime and we would like to commend the teenage girls for their bravery at the time of the incident.
"We hope this sentence sends a message that we will investigate incidents of this nature and will use the full extent of the law to catch and bring to justice these offenders."