 Yousseff Ahmed Mosalam Wahid jailed for 'shocking' 1999 murder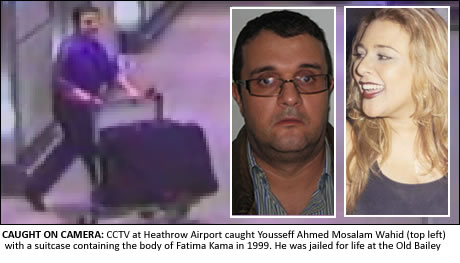 THIS is the chilling moment a killer is caught on CCTV – pushing a suitcase through Heathrow Airport containing the body of his victim.
Yousseff Ahmed Mosalam Wahid sexually assaulted and stabbed Fatima Kama to death in 1999.
The 42-year-old put Ms Kama's body in a suitcase and abandoned it at Heathrow Airport before fleeing the country.
He was finally tracked down last year in Bahrain and brought back to Britain to face trial, where he was this week jailed for life at the Old Bailey.
Detective Chief Inspector John McFarlane, from the Homicide and Serious Crime Command (HSCC), said: "This was a callous and shocking murder which left a family grieving the loss of a beloved daughter.

"Wahid spent twelve years evading police and refused to face up to what he had done, I am pleased that Fatima's family have finally got justice and that Wahid is behind bars, where he belongs".

The Old Bailey heard Fatima's body was found abandoned in a suitcase on an airport luggage trolley in a Heathrow airport car park on 17 July 1999.

Members of the public alerted a security officer to an unattended suitcase that had been left on the third floor of the terminal three car park. The security guard forced it open and found the body of Fatima, curled up in a foetal position.

Police were called and a murder investigation opened. The body was subsequently identified as that of 28-year old, Moroccan born Fatima. She had been a Canadian citizen for at least two years prior to her murder and was a regular visitor to London. She arrived in the country for the last time on 10 July 1999 on a return ticket to Canada, due to fly back to Montreal that evening.

It was known that both Wahid and Fatima, who were not partners, stayed at an address in the Marble Arch area of the capital. Fatima had stayed at the address earlier that year and on returning to the UK this final time had organised to sleep over at the flat.
Fatima is believed to have been transported in a black fabric suitcase, bearing the motif "Black Paw New York", from the murder scene to Heathrow airport.

A post mortem at Ealing Hospital mortuary revealed that Fatima had been subjected to multiple stab wounds and was sexually assaulted.

Wahid fled the country and travelled around various Middle Eastern Countries living under false names in an effort to evade justice.

Police issued appeals to trace him and in 2010 he was tracked to Bahrain. The MPS working together with the Bahranian Police mounted a carefully planned operation to locate and arrest him, resulting in his extradition. This is the first extradition of a UK fugitive from Bahrain.