 Dance Star coming home to Birmingham with Belly Dance show!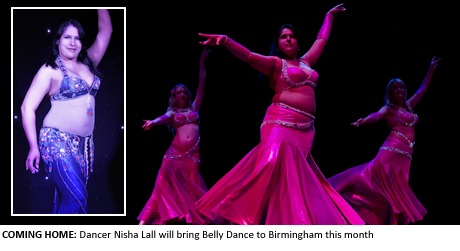 DANCER Nisha Lall is coming home – and bringing Belly Dance fun to Birmingham for one night only!
The 32-year-old Sheffield dancer, who grew up in the Winson Green area of the city, is bringing her new show to the MAC Arts Centre later this month.
The show, 'Rihla – The Journey of Belly Dance', will delve into what Belly Dance really means today and how Middle Eastern and Western culture has developed the dance to its current status.
Performances include Folk, Oriental, American Cabaret, Pop and Tribal Fusion styles.
Nisha has been involved in the Sheffield Belly Dance community for eight years and reveals she is "excited" about bringing the show to her home town.
"I was asked to join the Tarab Dance Company – the team behind the show – last year," she reveals. "I'm really excited about bringing the show to Birmingham as it is my home town."
She hopes the show will attract people who may be curious about Belly Dance.
"Our vision with the show was not to entertain just the Birmingham Belly Dance community but to attract the general public who may be curious about Belly Dance," she says.
Having already played to packed audiences in Leeds and Sheffield, such is the demand to see Nisha and the team perform, new dates are being added in Glasgow, Newcastle, Kettering, Nottingham, Manchester and London.
For the time being though, Nisha is gearing up to Belly dance into Birmingham this month.
"It's going to be great and I can't wait," she says.
Rihla – The Journey of Belly Dance, Sunday 16th October 2011, 5.00pm, Mac Birmingham. Tickets are priced £12/£10. For more information or to book tickets log onto www.macarts.co.uk