 Maths GCSE joy for Wolverhampton duo aged just 11 and 13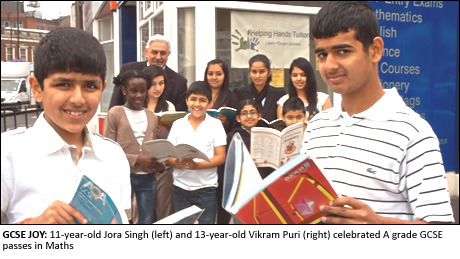 FRIENDS Jora Singh and Vikram Puri have aspirations to be a doctor and accountant – and they're well on their way after securing grade A Maths GCSE's aged just 11 and 13.
The youngsters can count their success down to hard work, support from their families and help they received from Wolverhampton learning centre Helping Hands Tuition.
Set up in September last year, the private tuition company has supported more than 100 students achieve a multitude of successes.
And two of those students, Jora and Vikram, are on a path to bigger and better things thanks to the support and guidance they received from the centre's fully qualified and experienced tutors.
Jora, 11, admits he was nervous about receiving his grade, but a brilliant A pass in Maths GCSE made all the hard work worth while.
"I was really nervous about getting my result but I'm glad I don't have to think about it anymore and I'm really happy with my pass," he told The Asian Today.
Jora hopes his pass will give him more to scream and shout about – he's hoping his proud parents will buy him a drum kit after they promised him a present as a result of his hard work.
For Vikram, his grade A pass is testament to the belief and confidence shown in him by his uncle.
"My uncle, Mr Puri, has always been a big push for me," the 13-year-old says.
"He's always pushed me to do well, explaining how studying hard will help me in the future and will be a positive benefit for me."
With their passes achieved, the two teens will look to add even more as they continue on their education paths. And they've even laid down plans for future careers.
"My granddad wants me to become a doctor and it's something I'm really interested in," says Jora, while for Vikram he's hoping to use his Maths GCSE to good use.
"I want to become an accountant," he admits.
Vinay Puri, from Helping Hands Tuition said: "We are extremely proud of all our students who have achieved so much throughout the past year in these difficult times. "I would like to thank all the teachers at Helping Hands Tuition for their hard work and commitment to helping children learn, excel and achieve.