 Grieving families pay tribute to loved ones and urge witnesses to come forward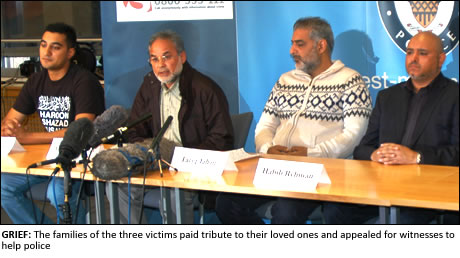 THE family of two brothers killed when they were hit by a car during a night of rioting in Birmingham have spoken publicly for the first time.
Abdullah Khan, uncle of brothers Shahzad Ali and Abdul Musavir said the killing of his two nephews "was not about race, was not about religion, it was a pure criminal act."
The two brothers, who ran a car valeting business, were killed alongside Haroon Jahan, 20, when they were hit by a car on Dudley Road in the early hours of Wednesday August 10.
A murder investigation was launched immediately after witness statements and CCTV footage showed the "deliberate and intentional actions" of the driver as he mowed down the three men and fled the scene. 
Police continue to question five people who have all been arrested on suspicion of murder.
As a press conference today the devastated families of the young men paid tribute to their loved ones and urged witnesses to help police bring their killers to justice.
Abdullah Khan, 58, said the deaths of his two nephews had left their family in "complete shock and devastation."
Sat next to him was Abdul Nasir Khan, 28, cousin of the brothers who wiped away tears as tributes were paid to the two brothers.
"Shahzad and Abdul were hardworking young men who had their own car valeting business on Dudley Road and all they wanted to do was protect their business and other businesses within the community," Mr Khan said.
"I remember talking to Shahzad two days before this tragic incident and he was excited and looking forward to the birth of his first child in a few months time. But that was not meant to be. A father who will never hold his child and a child who will never be held by his father. A wife without a husband, parents who lost two sons."
He added all the family wanted now was justice for their lost sons and urged anybody with information to help police with their inquiry.
"Words cannot express what we are going through at this moment," he continued. "We will have to go through this journey of pain and suffering and nothing will bring back our boys. We don't want anyone else to go through what we are going through. All we want now is justice for our family. This was not about race, this was not about religion, this was a pure criminal act and I ask anyone who saw what happened or has any information to come forward and help police in their enquiry."
Sat next to Mr Khan was Tariq Jahan, father of 20-year-old victim Haroon Jahan.
In the days after the killing he described how he battled in vain to save his dying son, as well as urging communities to stay calm.
Mr Jahan, 46, said he has received letters and emails of sympathy and support from all over the world.
"We are so grateful for all the messages of support we have received at this difficult time including internationally," he said.
"I also want to thank the young people in Birmingham for listening to what I had to say and staying calm."
Both families thanked the media for their support but asked they now be left to grieve.
Detectives investigating the deaths of the three men today appealed for help from the local community to identify a vehicle seen in the area at the time of the incident.
The vehicle, a black Audi A3, was seen by witnesses near the scene and police are asking for anyone with information or anyone who knows who was driving it at that time, to come forward.
Officers have also revealed that they have arrested a further two people late last night (Friday 12 August) on suspicion of murder.
The two men aged 23 and 27 from Birmingham are currently helping officers with enquiries.
Police are still questioning a further three people aged 16, 17 and 26 who were arrested on Thursday 11 August. Warrants have been granted for their further detention until 10pm tonight
A sixth man, aged 32, arrested a short time after the incident has been bailed while further enquiries take place.
As part of the investigation officers have also recovered two vehicles – a black Mazda registration CN06 SHZ, which was found close to the scene burnt out and a black Ford Fiesta BT11 GTY, which has also been recovered by police.
Det Supt Richard Baker, who is leading the murder investigation, said: "Enquiries are ongoing into these vehicles, but officers are appealing for anyone who has knowledge of the owners or drivers of these vehicles in the days and weeks before the incident to come forward."
He added: "Officers are working hard to bring those responsible for these deaths to justice. The response from the community has been overwhelming. We have seized over 400 exhibits and taken over 70 witness statements from people who have come forward and provided information. A significant amount of CCTV has been recovered and officers are looking through this and over 130 businesses and houses have been visited in relation to house to house enquiries.
"I would appeal to anyone with information to come forward and speak to police- the smallest amount of information could be critical in order to get justice for the families. We understand that people may be unsure or fearful about providing evidence to the police. I can reassure communities that West Midlands Police have a proven track record of successfully protecting the identity of significant witnesses and we will work closely with CPS to enable the full scope of legislation to be utilised to protect witnesses."
Det Supt Baker also paid tribute to the families of the victims and the local community.
He said: "The communities of all faiths have responded very positively together in relation to providing information and we would not be in the position we are without their support.
"Three young men died in the most tragic and unnecessary circumstances on Wednesday morning. These men were sons, brothers, uncles and cousins and this has devastated the families and local community. In order to ensure that justice is brought against the main offenders as swiftly as possible it is critical that the community continue to provide information in relation to this incident."
A peace rally has been organised at Summerfield Park in Dudley Road on Sunday.
The event has been organised by community groups in memory of the three men and to condemn the recent violence in the city.
Anyone who witnessed the collision or has information in connection with the incident is asked to contact West Midlands Police on 0345 113 5000 or call the special incident room numbers: Freephone 0800 096 0095 or local rate 0207 158 0125.