 New buyer found 10 days after V8 Gourmet Group fell into administration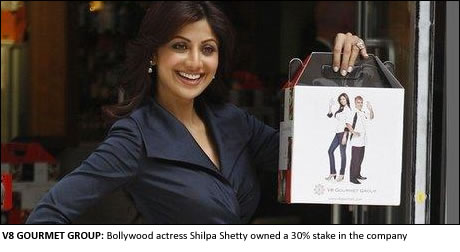 MORE than 250 jobs have been saved at an Indian restaurant chain part owned by Bollywood star Shilpa Shetty.
The beleaguered Indian restaurant chain V8 Gourmet Group plunged into administration last month with losses of £2.63 million at its last sales posting.
The Big Brother star owns a 30 per cent holding in the group which owns restaurant chains Bombay Bicycle Club, Tiffinbites, the restaurant and catering chain VAMA, as well as the airline catering arm Khana by VAMA and Silk Events. 
Shetty pumped £6 million into the group in 2009, before stepping down as a Director at the end of 2010.
Administrators Re10 said the company was bought by an unnamed purchaser last month for an undisclosed sum, which included all trading sites, as well as the concessions in Harrods and Selfridges. It is believed the purchaser will continue to trade the business.
The sale had secured the future of 264 employees.
Joint Administrator, Nimish Patel of Re10 said: "From the time Re10 was appointed as administrators on 13th June, our prime concern was to secure the future of the business, including its 264 members of staff, which we thankfully did, just 10 days later".