 'It's Double Standards', says anti-EDL Sikh group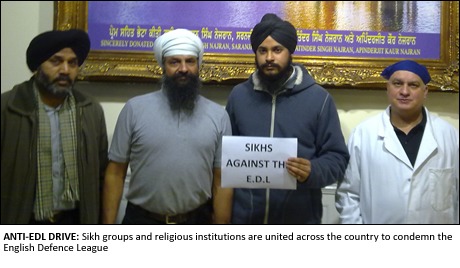 BRITISH Sikhs have reacted with fury at the failure to charge a spokesman for the English Defence League with causing religiously aggravated harassment, alarm or distress following an Anti-Muslim speech in Peterborough last year.
Self-styled EDL leader Guramit Singh was arrested in December following the speech he made at a protest to over 1,000 supporters in Peterborough.
A video of the speech – in which he insults Islam, the Prophet Muhammad and Allah – is widely available on the internet.
But Cambridgeshire police said they were dropping the case following "advice from the Crown Prosecution Service."
The police decision not to proceed further with his case comes only days after the uproar in the media when Emadur Choudhury, an Islamist extremist, was fined £50 after burning poppies during Remembrance Day last year.
Balwinder Singh Rana from 'Sikhs Against the EDL' said the decision not to charge Guramit Singh "smacked of double standards."
"So, while the media was right to protest against the lenient treatment given to Choudhury for causing an offence to the memory of the fallen soldiers, I think now they should show the same vigour in demanding that Singh should not be allowed to get away for insulting a whole community," he told The Asian Today.
"This smacks of 'double standards' on behalf of the justice system in this country. "Guramit Singh, by fronting the racist EDL, has only brought shame and embarrassment to the Sikh Community, but most of the community is united in condemning his actions."
Sikh groups and religious institutions across the country have united to condemn the EDL through a joint statement.
Varinder Singh, organiser of the 'Sikhs Against the EDL' and a signatory of the joint statement said: "It's a real shame that an individual like Guramit Singh can get away with saying just about anything and bringing our community into disrepute.
"I think that this incident has clearly exposed the EDL for its true fascist nature. I also feel immensely proud seeing the Sikh community unite against the EDL and hold individuals such as Guramit accountable for their actions. Already we have had many organisations approach us to open and engage in interfaith dialogue with them.
"Looking ahead I think another generation of anti fascists will emerge out of this who will continue to promote pluralism in our local communities."
Related Articles: