 Toddler, 4, amazes us with his talents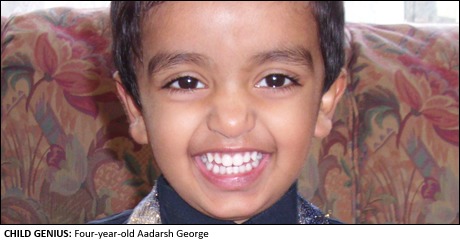 TODDLER Aadarsh George should be a fan of CBeebies – but this child genius is one of a kind!
Pay a visit to his family home in Carshalton, Sutton, and you won't find the four-year-old glued to Lazy Town or the Tweenies, instead young Aadarsh will be fixated on the BBC News channel.
The youngster has become somewhat of an internet sensation after dad Anish posted footage of his son's amazing general knowledge on YouTube in which he casually reels off the capital cities of a host of countries including Rwanda, Malaysia and Jordan.
With more than 6,000 hits the video catapulted Aadarsh into the limelight with a swarm of media interest and even a letter of appreciation from Prime Minister David Cameron.
But his talent doesn't stop there. Quiz Aadarsh on world currencies, presidents, states of India, medical abbreviations, car models and makes, and even the Bible and he'll leave you stumped with his amazing knowledge.
Dad Anish, 39, believes his young son has a photographic memory – and admits the family are perplexed at their son's incredible talent.
"I really don't know where his talent has come from," Anish tells The Asian Today.
"When he was three-years-old he was listing capital cities from countries all over the world without a single mistake. He taught himself the alphabet and now he's even reading the Bible."
Aadarsh, who cites Stephen Hawkins, Microsoft's Bill Gate and Facebook founder Mark Elliot Zuckerberg as his role models, started to amaze his parents at the age of just two when he suddenly began reading car registration numbers despite never having been taught the alphabet or numbers. A keen interest in books and letters followed and soon Aadarsh was watching BBC News, logging onto the internet and searching Google for answers to the numerous questions inside his head.
Today Aadarsh continues to amaze his parents. The youngster has decided he wants to study at Cambridge and Harvard before moving on to one of India's prestigious Institutes of Technology – all in the hope of becoming a scientist and inventing the world's first water-powered car.
Dad Anish, a sales assistant for Matalan, and mum Manju, 34, are unquestionably proud of their young son.
"We're so proud of Aadarsh. He's had letters sent to him from some very high profile individuals including David Cameron and former Indian President Dr APJ Abdul Kalam. Day after day he continues to amaze us."
Aadarsh is competing to become the Best British Malayali Young Talent 2010.