 Dancers land prestigious prize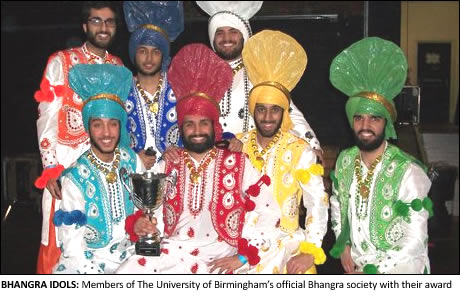 IT'S OFFICIAL – Birmingham has the best Bhangra dancers in the country!
The University of Birmingham's official Bhangra society danced their way to success after scooping the 'Best Bhangra Team' award at the annual Bhangra Showdown in London.
Organised by the Imperial College London, this year's competition was held at the Hammersmith Apollo.
Tens of teams auditioned to take part in with only the top ten accepted to perform at the final stage.
The Birmingham dance troupe was named winners after wowing judges with an outstanding performance. In total 18 students took part in the routine to beat off stiff competition, including one drummer, one singer and 16 dancers.
Starting with a traditional live opening set, the remainder of the dance was performed to a track mixed by one of the students taking part.
Ramey Bajwa, President of the University of Birmingham Bhangra Society said: "This is the third year that we have competed at the Bhangra Showdown, so we're ecstatic to have won!
"For many of our dancers this will be their final performance with the society before they graduate, therefore, this could not have been a better ending for them."
Matt Lamb, Vice President (Student Activities & Development) at the University of Birmingham Guild of Students added: "I'm delighted that our Bhangra society has been named 'Best Bhangra Team'. We have over 170 student groups at the Guild of Students from theatre to dance to the less traditional paintball and circus societies. All our groups are extremely talented and dedicated at what they do.
"I'd like to say a massive well done to Ramey and the Bhangra team; celebrations are definitely in order!"