 Defender stripped of captaincy and transfer listed over 'disciplinary matter'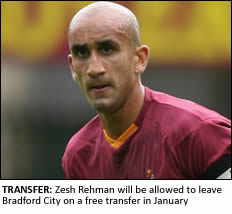 BRADFORD City defender Zesh Rehman has been stripped of his captaincy and transfer listed by the club.
The 27-year-old will be available on a free transfer when the transfer window re-opens at the start of January 2011.
The club said the decision had been taken due to a "disciplinary matter."
Rehman, the first British Asian to play in the Premier League, has made 12 starts for the club this season but in recent games has been an unused sub.
In a recent interview with BBC Radio Leeds he expressed his disappointment at being out of the starting eleven.
"I'm not going to lie, it's left a bad taste in my mouth having to watch the last few games from the bench.
"I've led the team to good results and performances and then I've had four young loan defenders, with 10 league games between them, come in and play ahead of me.
"Now, no disrespect to them, but at times like this I think you need experience.
"I'm club captain, have played over 200 games in my career so far and I think my experience could help the team right now.
"It's not just me that's baffled as to why I'm not playing, but my team-mates as well and I've been stopped by a number of fans too.
"But, at the end of the day, the manager [Peter Taylor] has to pick the team that he thinks can win and you have to respect that and get on with it."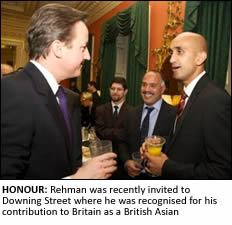 Recently Zesh was at a private reception held by Prime Minster David Cameron at Downing Street.
In a speech at the reception, the Prime Minister said he wanted to "celebrate the immense contributions" British Asians like Zesh Rehman have made to this country.
Speaking at the time Rehman said: "This is a distinguished moment for not only for me as Club Captain, but also an incredible honour for Bradford City FC and the City of Bradford. Together we have achieved positive recognition on a national scale."