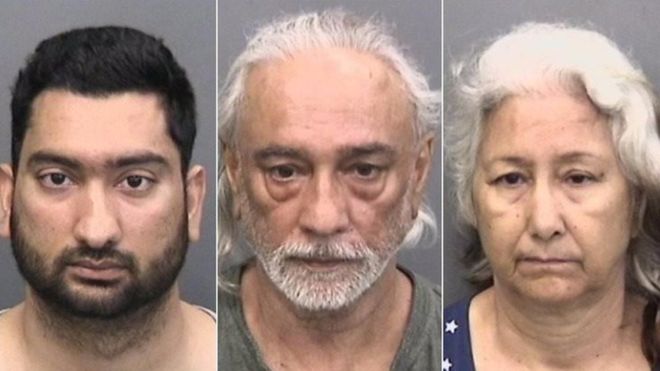 Florida police say a couple flew 8,000 miles (13,000km) from India to the United States to help their son "discipline" his wife.
67-year-old Jasbir Kalsi and his 62-year-old wife Bhupinder Khalsi reportedly travelled from the Punjab region of India to Hillsborough County, Florida, to help their son Devbir "counsel and discipline" his wife.
On Saturday, a police officer discovered Silky Gaind battered and bruised after she got a message to her parents.
The Khalsi parents and son are facing a number of charges, including battery.
Father Jasbir, who had been in the country for a month with his wife, had also allegedly held a knife to the woman's throat.
Local media reported that 33-year-old Ms Gaind had been held for some time before deputies from the Hillsborough County Sheriff Office arrived at her door.
The family reportedly attempted to stop the officers from entering when they arrived at the house. Inside, Ms Gaind yelled for the authorities to help and her one-year-old daughter.
Ms Gaind told a judge at a court hearing on Sunday that her husband had left her in fear for her life.
"I am so scared, because last night he was telling me he was going to kill me if I call the police. He would kill me to death, you know? He told me it would take 10 minutes for police to come and before that he would kill me and then kill himself," she said.
Jasbir Kalsi was facing charges of aggravated battery with a knife, while his son Devbir, 33, had been charged with felony battery.
Both are charged with false imprisonment, child abuse and denying access to 911.
Bhupinder Kalsi was charged with battery domestic violence and failure to report child abuse.