 Sutton Coldfield Skydiver raises over £1,700 for heart charity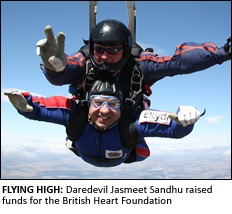 A BIG-HEARTED Sutton Coldfield daredevil has raised over £1700 for the British Heart Foundation (BHF) by plunging from the sky in a parachute.
Jasmeet Sandhu, 37, from Walmley travelled to Hibaldstow near Hull to take part in a tandem parachute jump in a bid to raise money in memory of his late father, Parmjit Singh, who died of a heart-related condition. 
Jasmeet, who raised the impressive amount through sponsorship from family and friends, was keen to support the work of the BHF.
 "My father died when he was just 46 and as a tribute to him, I wanted to give money to a good cause and help raise awareness of the importance of staying healthy and looking after your heart," Jasmeet said.
The skydive was a first for Jasmeet and he enjoyed the experience so much he would like to take it up as a hobby. He added: "That's if my wife will let me!" laughed Jasmeet. 
Donna Stokes, BHF Fundraising Manager for Birmingham praised Jasmeet for his fund-raising commitment.
She said: "I am delighted that Jasmeet has chosen to support the charity and has raised so much money to help us save more lives. We all know someone who has been affected by heart disease, it touches us all.
"The South Asian community is at a higher risk of heart disease and we are currently working with these communities to raise awareness and give advice on how to prevent heart disease. Funds raised from events like this will help us to continue with our vital work."