 New memorial to be unveiled in Sussex later this month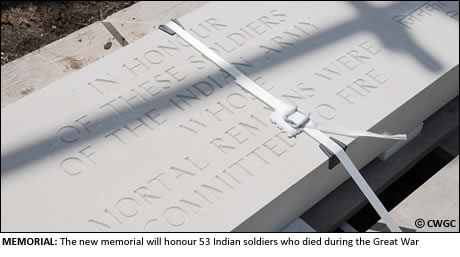 NEW war memorial paying tribute to some of the one and a half million Indian soldiers who fought for Britain during the First World War is set to be unveiled later this month.
The new memorial is being built by the Commonwealth War Graves Commission and will bear the names of 53 Indian soldiers who died during the Great War.
It will stand a few metres from the existing Patcham Down Indian Forces Cremation Memorial often referred to as the Brighton Chattri.
The Chattri Memorial, which stands on the Sussex Downs overlooking Brighton, commemorates all those Indian soldiers who fought during the First World War and was built on the site where Hindu and Sikh soldiers, who died following hospitalisation in Brighton, were cremated. Unveiled in 1921, a memorial service has been held there every year since.
A number of high profile figures, including The High Commissioner of India to the UK, Nalin Surie and veterans from the Undivided Indian Ex-services Association, are expected to attend the unveiling later this month.
The unveiling of the new memorial is being filmed as part of a new education resource being prepared by the Commonwealth War Graves Commission, which examines the often overlooked contribution of servicemen and women from India during the two world wars.