 Babar Ahmad 'pleased' action is being taken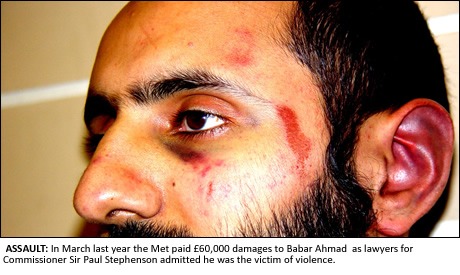 FOUR police officers have been accused of assaulting terror suspect Babar Ahmad as they arrested him in 2003 in London.
The officers, all members of the Metropolitan Police's territorial support group, will be charged with causing actual bodily harm.
The Crown Prosecution Service said Pcs Nigel Cowley, John Donohue, Roderick James-Bowen and Mark Jones will appear before magistrates on September 22.
Simon Clements, of the Crown Prosecution Service, said: "Babar Ahmad was arrested by the officers on suspicion of terrorism offences. Mr Ahmad suffered a number of injuries during that arrest, including heavy bruising to the head, neck, wrists and feet.
"The Crown Prosecution Service received a file of evidence on how those injuries were caused from the Independent Police Complaints Commission in 2004. We took the view at that time that there was insufficient evidence for a realistic prospect of conviction of anyone involved.
"Following Mr Ahmad's successful civil proceedings for compensation from the police in the High Court last year, his solicitors asked the CPS to look at the evidence again. The Director of Public Prosecutions asked the Special Crime Division to do so. We have now completed our review of the evidence.
"Our conclusion is that there is sufficient evidence and it is in the public interest to charge four of the officers involved in the arrest of Mr Ahmad with causing actual bodily harm to him, contrary to the Offences Against the Person Act 1861."
The four officers will be summonsed to appear at City of Westminster magistrates' court in central London.
Ahmad, 36, was held by a team of police officers who raided his home in Tooting, south London, in December 2003. In March last year the Met paid £60,000 damages as lawyers for Commissioner Sir Paul Stephenson admitted he was the victim of violence.
In a statement, Ahmad said: "I am pleased that the CPS has decided that a jury will hear the evidence in this case and it will now be for the jury to determine whether any police officer should be punished for the assault upon me in December 2003. I have no further comment to make at this time."