 Awais Akram speaks of ordeal as attackers are jailed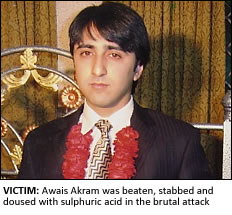 A MAN who suffered horrific injuries when he had acid thrown on him in a revenge attack has spoken of his fears today.
Awais Akram suffered appalling injuries and was left severely disfigured following the attack in east London last July.
Today the man behind the attack, 26-year-old Mohammed Vakas, was jailed for 30 years for conspiracy to murder.
Two other men – Mohammed Adeel, 20, and 17-year-old Fabian Kuci, were found guilty of conspiracy to commit GBH.
Adeel was jailed for 14 years, while Kuci was sentenced to eight years.
In an impact statement read in court, Mr Akram said his life had been ruined following the attack.
"If I ever go out by myself, I get very upset. I try to avoid this and always go with someone else," he said.
"I have been out only once or twice, I'm very scared and I keep looking back to see if someone's there. If I see anyone, I notice that they're looking at me because of my face – my face is so badly burned.
"I'm scared of going to see my friends, that if someone tells anyone, the news might be passed from one person to another and I'm scared that I would be tracked down and something similar could happen again."
Mr Akram said the attack had left him 'scared' and he was living with a "fear" in his brain that those responsible would attack him again.
"I feel like I have a kind of fear which is inside my brain and I feel like it will be there for the rest of my life," he said.
"This is to the extent that I haven't given my address where I'm living to any friend or anyone. I only just recently started talking on the phone because I'm worried that the person I'm speaking to might have contact with the people that have done this. In London I'm very scared and I don't like living here."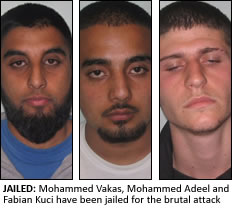 The attack on Danish born Mr Akram, who arrived in Britain from Pakistan to work, was fuelled by his 'relationship' with Sadia Khatoon, a married woman from Walthamstow who he met online through Facebook last year.
Mrs Khatoon helped Mr Akram find accommodation in Mayville Road, Leytonstone. It was during this time that their relationship became known to Mrs Khatoon's family, including her husband Shakeel Abassi.
As a result, a plot was then formed to carry out a 'revenge' attack on Mr Akram for the threat the relationship posed.
The plot involved Mrs Khatoon's brother, Mohammed Vakas and her cousin Mohammed Adeel, who recruited Fabian Kuci.
On the night of the attack, on the request of Mrs Khatoon, Mr Akram headed to an internet café to check on a ticket to Pakistan she said she had bought him.
After finding the café shut, Mr Akram made his way home via Marchant Road. As he walked along, he was approached by Vakas, Adeel and Kuci.
Mr Akram was stuck on the thigh, causing him to fall on the ground. He was then beaten and stabbed before being doused with acid.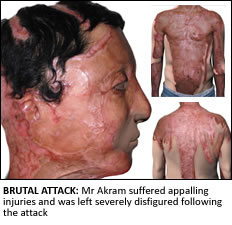 Mr Akram suffered 47 per cent burns to the head, neck and chest, abdomen, upper limbs. He also suffered facial fractures, eye injuries and stab wounds to the lower body.
"My skin is damaged all the way from my head to my knees," Mr Akram said. "I've already had skin grafts to my arms. Doctors have told me that my reproductive system is damaged. They can't tell me the extent of it at the moment and we'll have to see, when the time comes. I wear gloves on my hands and coverings on my arms, to try to get the skin to grow back normally. Gradually it is starting to grow back to the normal colour. They have given me a similar face mask as well for to me to wear. All the body is like that. My legs are burned all the way down to my knees and my arms are badly damaged. My thumb is damaged as well. It's difficult to move."
Mr Akram said the attack had also affected his family.
"When this happened, and it looked like there wasn't any chance of me surviving it my dad became very quiet. When he sees me he gets very upset because I'm the only son in our family," he said.
With his attackers now in prison, Mr Akram admits his recovery is far from over.
Over the next few years he will have to deal with a number of operations on his skin, eyes and ears.
"I will have to ask for help from other people for the rest of my life now," he admits. "I'll need help from my parents, or a carer. I can't do anything yet."
Related Articles