 IPCC rule in death of Burnley father Nadeem Khan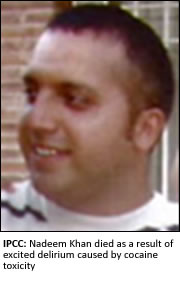 POLICE officers who restrained a Burnley father moments before he collapsed and died were not to blame for his death, the Independent Police Complaints Commission has ruled.
Nadeem Khan, known to family as friends as Dean, died just hours after he was arrested by officers in the Brierfield area of Nelson, Lancashire in June 2007.
The 28-year-old from Rawstorne Street, Blackburn, had been arrested following reports of a man damaging property in the area.
In its investigation the IPCC said Mr Khan had "violently resisted arrest", and was sprayed twice by officers who finally put him into a police van and took him to Burnley Police Station.
At the station Mr Khan continued his violent behaviour and was taken straight to a cell, the IPCC said.
Moments after entering the cell Mr Khan collapsed as officers tried to remove his clothing.
Paramedics and police officers battled to save Mr Khan's life at the police station for over 30 minutes before he was rushed to Burnley General Hospital where he was pronounced dead.
A post mortem showed that Mr Khan died as a result of excited delirium caused by cocaine toxicity.
In its findings the IPCC ruled that Mr Khan's arrest was "lawful" and "justified" and that the restraint techniques used by the officers "were in line with policy and procedure."
But the investigation did identify the need for officers to be trained in the identification of the rare condition of excited delirium.
IPCC Commissioner Ms Naseem Malik said: "Nadeem Khan's death prompted concerns among the local community. It is apparent he was a well-known figure in the community and understandably Mr Khan's family had a lot of questions they needed answers to. I would like to extend my sympathies to them again for their loss.
"In this incident I do not believe the individual officers can be blamed in any way for the death of Mr Khan. They had not been trained to identify or deal with excited delirium, but treated the situation as dealing with an irrational and violent individual who needed to be taken to a safe place for assessment."
Mr Malik said the officers were dealing with a "volatile and difficult situation", and that it was "questionable" whether Mr Khan could have been treated even if officers had identified his symptoms.
"The officers acted with the best of intentions in taking Mr Khan to custody where they believed he could be assessed in a secure environment," Mr Malik added.
"However, while it is unclear whether it could have made a difference in this incident, I do believe our investigation reinforced the need for Lancashire Constabulary and other police forces around the country to realise the real risk of their officers having to deal with individuals suffering excited delirium and put appropriate training in place to assist their front line staff. I know this has happened in Lancashire meaning officers who come across this rare condition in future will be better prepared to be able to deal with it."