 Mo Chaudry steps in to save sporting dream of Potteries sprint ace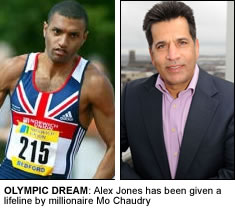 MO Chaudry, entrepreneur and star of Channel 4's 'Secret Millionaire', has rescued the Olympic aspirations of Potteries sprint ace Alex Nelson.
Nelson, a former under-20 European 200m gold medalist, lost his central funding after struggling with injury problems for most of last season.
Mr Chaudry, who owns the famous Waterworld tourist attraction at Stoke-on-Trent, has stepped in to provide Nelson with a five-year sponsorship to support his campaign to compete at London 2012 and beyond.
"To me this is an opportunity to support a supremely talented local athlete who has the potential to put Stoke-on-Trent on the map in a big way. How good will that be for all of us if he makes the Olympic final? I would like to set up a fund to help other young sporting talent, and I encourage other would-be sponsors to do likewise and give our future Olympians the best chance of success," said Mr Chaudry.
"This sponsorship money will be a massive help," said 20 year old Alex Nelson. "These funds will allow me to fly out to Arizona for warm weather training with my coach. Without Mo's help this trip, that is vital to my preparation for the season, simply wouldn't happen."
A committed philanthropist, Mr Chaudry is also well known for his sporting prowess. He won a silver medal in the 1983 British student Olympic weightlifting championships and has won plaudits for his martial arts and amateur boxing exploits. He also played under 19's cricket for Warwickshire, winning full caps for Shropshire County Cricket Club.
He received honorary degrees from Keele University and Staffordshire University in 2008, where he had previously studied sports science.