 Youngster expected to return to the UK "very shortly"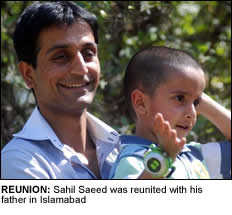 SAHIL Saeed has been reunited with his father in Pakistan.
The youngster, who was kidnapped and held for ransom in Pakistan, was driven to the Islamabad home of Adam Thomson, High Commissioner to Pakistan where he met his father for the first time since he was snatched from his grandmothers home in Jhelum on 3 March.
Pictures showed the five-year-old with a shaven head, playing football with his father and young cousin.
The five-year-old, from Oldham, was found earlier this week 13 days after he was kidnapped just hours before he was due to fly back to the UK.
A ransom of £100,000 was paid to his kidnappers to secure his release.
Two men and a woman have been arrested in Spain in connection with Sahil's kidnapping.
Speaking to Sky News Adam Thomson, High Commissioner to Pakistan, said Sahil has revealed little about his kidnapping ordeal.
He's said very little so far about his ordeal and it will be for the professionals back in the UK to talk him through it," Mr Thomson said.
"Our focus has really been simply on reuniting him with his father and other family members. So our consul who was in Jhelum coordinating with the Pakistani Police brought him up along with some of his relatives; his grandmother, his uncle, a cousin to my house in Islamabad and there he was reunited with his father.
"It was a very emotional moment obviously and one we were delighted to have been able to help facilitate."
He also revealed Sahil would be "travelling very shortly" when asked if the youngster and his father would be flying back to the UK today.
He also urged British Pakistani's planning holidays to Pakistan with young children not to panic in light of Sahil's kidnapping.
He said: "There are very, very large numbers of visitors going in both directions between Britain and Pakistan, a lot of British Pakistanis come to Pakistan on holiday. Kidnapping is a concern, one of a number, and that is reflected in the Foreign Office's travel advice.
"But the overwhelming majority of travellers come here have a good time and go home without trouble."