 Youngster set to return to family in Oldham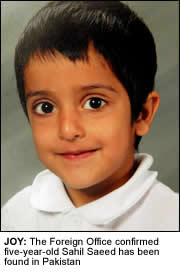 BRITISH youngster Sahil Saeed has been found in Pakistan, it has been confirmed.
British High Commissioner to Pakistan Adam Thomson confirmed the news in a statement.
"This is fantastic news that brings to an end a traumatic ordeal faced by Sahil and his family," he said.
"I would like to praise the high level of cooperation between the UK and Pakistani authorities and in particular I would like to thank the Jhelum Police for their role in bringing about the safe return of Sahil."
The Foreign Office has released no further details about Sahil's release.
Reports say the youngster was found abandoned some 20 miles from his grandmother's house near a village school in the town of Dinga.
The five-year-old from Oldham, Greater Manchester, had been due to fly back to Britain with his father just hours before he was snatched by gunmen at the family home in Jhelum, Punjab on 3 March.
A ransom for £100,000 had been made at the time and it is unclear whether the family paid the money to secure the released of Sahil.
There has been no news on any arrests by police in Pakistan following Sahil's release.
Four police officers were suspended from their jobs for not initially responding to the family's emergency call.