 Four Leeds men jailed for over 40 years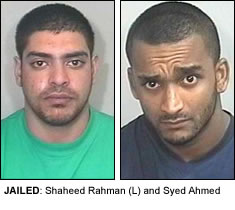 FOUR MEN who kidnapped a teenager and burned him with an iron in a terrifying kidnap plot have been jailed for over 40 years.
The victim, who has not been named, was abducted by the group and tortured for five hours as his kidnappers demanded thousands of pounds from his family.
Today Shaheed Rahman, 24, Syed Ahmed, 24, Ali Shuel Hussain, 28, Abdul Rajaque, 29, all from Leeds, were jailed for their horrific actions.
A fifth man, Hassan Ahmed, 25, will be sentenced at a later date.
Rahman and Ahmed both pleaded guilty to conspiracy to kidnap and conspiracy to blackmail at Leeds Crown Court.
Rahman was jailed for 12 years, 9 months, Ahmed for 12 years.
Brothers Shuel Hussain and Hassan Ahmed along with Abdul Rajaque pleaded guilty to conspiring to commit blackmail.
Hussain was sentenced to 10 years, Rajaque to five years, three months.
The court was told the young victim was kidnapped on April 30 2009 as he returned home from a fast food restaurant in the Harehills area of Leeds.
He was taken to an address in the Belle Isle area of the city where he was burned with an iron and scalded with boiling water over a five-hour period.
During this time his brother was repeatedly contacted by the kidnappers who demanded a £20,000 ransom. They threatened to cut off the victim's fingers unless it was paid.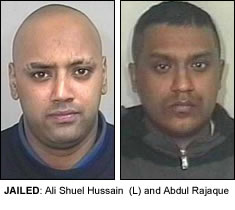 Following a report of the kidnap from the victim's brother, police in North East Leeds contacted local officers and arrested Syed Ahmed from the house in Belle Isle and Rahman a short time later.
Detective Superintendent Bill Shackleton, from West Yorkshire Police's Homicide and Major Enquiry Team, said: "This was a deeply traumatic experience for the young man who was taken hostage, and also for those members of his family who were obliged to deal with the demands made by the kidnappers.
"The fact that a 16-year-old young man was needlessly tortured with a hot steam iron and by having red hot water poured onto his skin made this offence all the more despicable."