 Asian Beauty journalist wins top award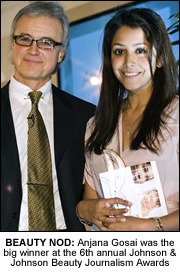 TOP Asian beauty journalist Anjana Gosai has been named Beauty Journalist of the Year at the 6th annual Johnson & Johnson Beauty Journalism Awards.
The mum-of-one won the prestigious prize – and a second award for Best Freelance Beauty Journalist – for her work in newspapers including the Daily Mail, Daily Express, The Mail on Sunday and The Sunday Times.
Anjana also contributes to a number of magazines including Elle and top Asian lifestyle mag, Asiana.
It was the first time Anjana has picked up the awards and the 32-year-old, who lives in north London with her family, said she was "over the moon" at the honour.
"These awards are the equivalent of the Oscars to us beauty writers. I've been attending the event for the past three years and while I've been shortlisted many times, I've never won, so I'm over the moon! To be recognised amongst my peers, including beauty editors whose work I have admired for years and to have my work commended by top people in the industry makes me feel very humbled."

Anjana's debut book The Ultimate Guide to Beauty – described as a beauty bible for South Asian women – was published last year and has sold thousands of copies all over the world.