 Family pay tribute to 2004 murder victim Kalvinder 'Bob' Singh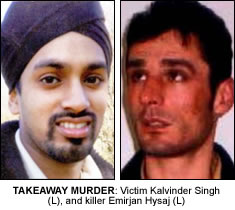 THE family of a Manchester man beaten to death outside a takeway in 2004 have paid tribute to him after a second man was jailed today for his murder.
Kalvinder Singh, 31 known as 'Bob' to family and friends, died in April 2004 after he was savagely beaten by a group of men at a takeaway in Cheetham Hill, Manchester.
The father-of-two suffered terrible injuries in the attack and died over two weeks later at North Manchester General Hospital.
Today Emirjan Hysaj, 34, who fled the country after the attack, was jailed for life for murder and was told he would serve a minimum of 16 years before being considered for parole.
He was extradited from Italy under a European arrest warrant in February 2009.
Another man, Marjan Semaj, 27, was jailed for life in 2005 for Mr Singh's murder.
Today My Singh's daughter, Tina, who was just nine-years-old when her father was brutally murdered, paid tribute to him.
"My dad, Bob Singh, was a kind, caring and funny man. He was a brilliant dad, loving husband, a kind brother, a wonderful son and a best friend to all who knew him," she said.

"Even though he is not alive, his memory lives on through all of the people whose lives he touched."
Manchester Crown Court was told how Mr Singh and a group of friends were attacked at the Burning Balti takeaway restaurant on Cheetham Hill Road in the early hours of April 9 2004.
Mr Singh was knocked to the ground and subjected to a brutal attack in which he was repeatedly hit in the head with a plank of wood and had his head stamped on.
Two other friends, Andrew Smith and Wayne Sykes, were also viciously attacked. 
The court was told Mr Singh was rushed to North Manchester General Hospital suffering from head injuries, and a fractured skull and cheekbones. He was later transferred to the Intensive Care Unit at Hope Hospital where he died 16 days later.

Martin Bottomley, head of Greater Manchester Police's Cold Case Review Unit, who investigated the killing said: "This vicious attack took a devoted family man away from his wife and children.

"The men responsible for this continued to hit Bob as he lay defenceless on the ground, showing a blatant disregard for his life.

"I know his family still miss him dearly and only hope they can take some comfort in knowing another one of his attackers is now behind bars, where he belongs."