 Purru Raajkumarr talks to The Asian Today about his role in 'Veer'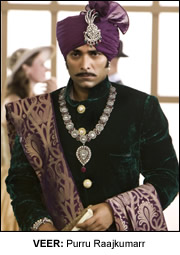 ANIL Sharma of 'Gadar' fame makes few moves, but when he does, the world sits up and takes notice.
The latest in the line of his much awaited works is 'Veer', a period story, penned by none other than the hero of the film Salman Khan, the mega epic produced by Vijay Galani. The film stars an ensemble cast of veterans and youngsters, comprising Mithun Chakraborty, Jackie Shroff, Purru Raajkumarr, Sohail Khan and new entrants Zarine Khan and Liza Lazarus. 
The music of the film is by Wajid Ali, and the film reportedly hit the headlines for having shot Bollywood's costliest song sequence ever, at a whopping 3.5 crores!
The film is a period romance set in 1875, based on the story of a clan called the Pindaris, and is to hit the screens as the biggest opener of the New Year, on January 22. 
 The Story of the Pindaris is a tale of bravery, treason, honour and love. A proud clan that preferred death to dishonour. Veer is about one such soldier and his family. It also encapsulates myriad aspects of the father son relationship.
Playing the son of handsome father Jackie Shroff, Purru Raajkumarr has a small but hugely significant pivotal role in the film veer. Purru has always been known for choosing his roles very selectively, content even if they are smaller in actual footage, but ensures that he leaves his mark, be it a Mission Kashmir, or a Hamara Dil Aapke Paas Hai, or an LOC or even an Umrao Jaan. Senior directors have invested their confidence in his understated talent (as opposed to his father's flamboyant expression- a natural comparison). But Puru's performances are so very memorable in his independently developed style.
Veer obviously is a huge multi-star cast film and is probably one of the biggest films ever made, by a director who was responsible for making the biggest hit film of the last decade.
"Just being a part of this film has been extremely fulfilling," says an elated Purru.  
"The chance to work with Salman Khan, who not just me, but my entire family loves. There's a cast like Mithun dada, Jackie Shroff and Sohail Khan too. I play Mr Shroff's son, which I was extremely ecstatic to play. It's great to have a very handsome looking screen father. And who's a Class Act. A brilliant performer. So obviously, I feel very privileged." Adding cheekily, "And dare I say, on screen, this pair (Jackie and me) looks pretty good!"
Progressing with his role, Purru reveals: "The movie is also the story of the clash between the Pindaris and the state. My character has been given to believe that it was the Pindaris who had cheated my father on certain issues and had cut off his hand. And I am operating from a certain sense of vengeance. Rather, of avenging my father's injustice and dishonour, to put it more nobly. It's a completely positive role. My character has a particular sense of arrogance, about his being a prince. This is, remember, from the 1870s and the kings did not mingle with commoners and the lower classes. Besides avenging his father's disgrace, and besides being very hot blooded, his sense of right and wrong are in blacks and whites. There are no grey areas. He has been told to do a particular job by his father and shall bring it to fruition, this is his only aim. He doesn't bring his own mind to it because that's what his father has told him. And this boy has a great depth of character, seen in the love he has for his family."
Speaking of the difficulties in developing the character, Purru admits: "It's very very difficult by virtue of simple arithmetic. There is no time. You don't get adequate screen time to develop it so one does tries to add things in gestures and movements, bring certain character traits in the personality which will portray far more than the written word or descriptive. Like there's a song sequence which I'm a part of, and there are no dialogues in that. It's pure emotions I've relied on to convey certain dimensions of my character. So, this aspect makes such roles very challenging and by the same parameters also very fulfilling when you've done it to satisfaction. These are the bonuses you get which make a journey lots more fun."
And Salman Khan as a co-actor was a dream to work with according to Purru.
"Salman bhai was so good; I was comfortable from day one. They were all very kind, Salman bhai and Sohail and all of them. It was like a bunch of friends working together. Mr Anil Sharma again is very easy to work with, very calm and composed. He explains the basic idea of your scenes and walks away and lets you do your thing. And a big film like Veer comes with a load of stress for everyone, not just the production. There are timelines which need to be met always. Naturally, the producers are on tenterhooks because it's very easy for such an epic film to go over-budget. And all actors are also simultaneously working on other projects, so there are a lot of logistics that have to be worked out. Under that kind of pressure, completing and delivering a product as big as this is in itself a huge thing."
What shines through is Purru's pride in this film and the confidence that it's yet another window to a beautiful sunrise. It takes a brave man to be an actor, and Purru is no less than Veer!
Veer releases nationwide on 22 January 2010.