 Detectives continue appeal in murder of Sukhwinder Singh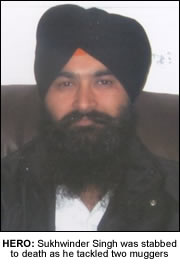 DETECTIVES investigating the murder of have-a-go hero Sukhwinder Singh have arrested three men.
The men are currently in custody at an east London police station.
Detectives are continuing to appeal to the public for information relating to Mr Singh's murder and now believe there may have been more than two suspects involved in the incident
The father-of-one was fatally stabbed as he tackled two muggers moments after they snatched a woman's handbag near Barking station on Friday 8 January.
Earlier this week detectives released a photograph of the victim's handbag which has not been recovered.
The bag, described as brown leather with a light and dark brown pattern, has not been found and police are appealing for information.
Detectives said they want to speak to anyone who saw the two suspects running away from Uphall Road, at the junction with Victoria Road, Barking.
They believe the suspects would have stood out because it would have been unusual for anyone to be running on the icy roads and pavements.
Mr Singh chased the men for some 50 to 70 yards along Victoria Road into Uphall Road after witnessing the mugging in nearby Loxford Road.
Detectives believe an altercation between Mr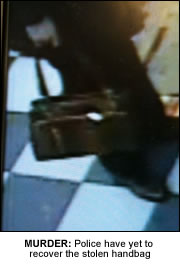 Singh and the two men took place in Uphall Road which resulted in Mr Singh's fatal stabbing.
Police are unsure which direction the suspects made off from Uphall Road and are appealing for information.
DCI Stephen Clayman, who is leading the investigation, said: "We need to hear from anybody who witnessed the initial robbery, the actual stabbing and anyone who may have seen suspects running away from the Uphall Road area, or perhaps discarding property in the vicinity.
"I wish to encourage member of the public to come forward and speak to police – no matter how insignificant they may feel their information is. If they have fears regarding speaking to police. I assure them that we can allay those fears."
Anyone who can assist should call the incident room on 020 8345 3775 or to remain anonymous, Crimestoppers on 0800 555 111.