 Javid Iqbal sentenced to five years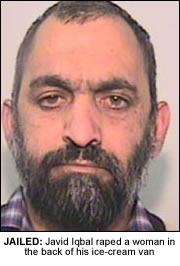 AN illegal immigrant who raped a woman in the back of his ice cream van has been jailed for five years.
Javid Iqbal, 44, of Bury New Road, Bolton was convicted of rape and possessing false identity documents at Bolton Crown Court.
He was sentenced to four years imprisonment for rape and 12 months jail for possessing false documents, to run consecutively.
Iqbal, an illegal immigrant from Pakistan, was also served with a deportation order.
The court was told on 23 May 2006 a 22-year-old woman was walking towards Bolton when she came across Iqbal.
She got into his ice cream van and he drove to Alders Lane where he raped her before throwing her out and driving off.
Police were called and detectives were able to get a DNA profile of the attacker from the victim.
In August 2006 the victim was in the Tonge Moor area when she spotted the ice cream van. The vehicle registration, H804 WCP, was handed to police.
Records showed Iqbal was the registered keeper and his address to be Bury New Road but officers were told he had gone to Pakistan. He was circulated as wanted by police.
But in June last year Iqbal was caught after officers stopped his ice cream van in the city as part of a police and local authority operation targeting unlicensed street traders.
Speaking after the verdict Detective Constable Declan O'Reilly, from the Sexual Crime Unit, said: "Iqbal raped a young woman for his own sick sexual gratification and continued to parade around the town as if he had done nothing wrong.
"It must have been galling for the victim to see him a second time going about his business, but thankfully she was able to make a note of his registration which was key to us identifying Iqbal.
"The fact he was arrested during a routine operation demonstrates why we do these sorts of things and proved a fantastic result as we were able to take a dangerous rapist off the streets."