 Birmingham parents and kids get the cooking bug!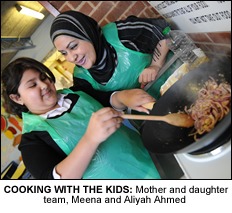 KIDS at a Birmingham school have got their healthy eating lifestyles sussed, thanks to a fun cooking scheme for children and their parents.
Wyndcliffe School in Small Heath have taken on FoodNet's 'Cooking with your Kids' initiative which is an exciting programme for primary schools in the Heart of Birmingham Primary Care Trust area.
The scheme, which encourages parents and children to cook together, was piloted in April last year to great effect.
It has received tremendous feedback with 250 parents and children already having benefited from the scheme.
The interactive cooking courses allow both parent and child to gain hands-on cooking skills, try new foods and explore what exactly is in the food we eat.
Ninety four primary schools across Birmingham have been given the opportunity to participate in this innovative programme – delivered in the schools by trained food health advisors. The free sessions span a five week period and each last 90 minutes.
Mother and daughter team, Meena and Aliyah Ahmed, are highly supportive of the course.
"I've learnt so much here, both of us have," said Meena.
"I'm so much more aware of portion sizes and how much salt is actually going into our food. I'm also really pleased with how well my nine year old daughter has responded to the sessions – she's changed her attitude to junk food now and swaps it for healthy snacks. "
The scheme has received praise from the Department of Health, with Karen Saunders, senior public health manager at the Department of Health, West Midlands, stating:
'It's worrying to think that if the nation carries on as we are, 9 out of 10 of today's children risk growing up with dangerous levels of fat in their bodies.
"However, through schemes like Cooking with your Kids and the government's national Change4Life campaign, we are able to provide families with essential support in helping change attitudes towards food. It's so important that we teach children from a young age how to adopt a healthy lifestyle in the hope of reducing the nation's obesity level."