 Mohammed Asif Choudary sentenced to nine years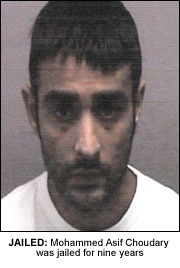 A MAN who tried to smuggle over £7,500 worth of drugs into the country after visiting Pakistan has been jailed for nine years.
Mohammed Asif Choudary of Newtown Street, Leicester attempted to conceal around 138 grams of heroin by swallowing 28 small packages of the Class A drug.
He was stopped by border officials after flying into the country from Islamabad, Pakistan, on June 11, 2009.
Detectives valued the drugs haul at £7,500 but said the figure would have "doubled or even trebled" once 'cut' by drug dealers.
Following his arrest Leicester officers conducted a search of his home and found the shotgun hidden under his bed along with 49 rounds of ammunition.
Choudary pleaded guilty to importation of heroin and possession of a Section 1 prohibited firearm.
Detective Inspector Simon Cure, who led the investigation for Leicestershire Constabulary, said: "Choudary was determined to smuggle drugs into the UK, which he potentially would have supplied to dealers in Leicester. He had no qualms about putting his own life at risk to achieve this. Now he's paying for his crimes by losing his liberty."