 Babu Natha Day Sarasia and Bharat Ram Sarasia jailed for total of 43 years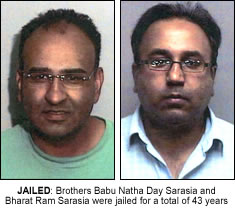 TWO Leicester brothers have been jailed for their part in importing £12m worth of heroin into the country.
Babu Natha Day Sarasia, 44, and Bharat Ram Sarasia, 45, were today found guilty at Nottingham Crown Court.
Babu Natha was jailed for 25 years and Bharat Ram for 18 years.
Another man, Rajesh Rathod, 48, of Portmore Close, Beaumont Leys, was found not guilty.
The court heard how the defendants had been involved in a criminal operation responsible for the importation of approximately 180 kilograms of heroin, with a potential street value of £12million.

The investigation began in July 2007 when officers from HM Revenue and Customs conducted a routine inspection of goods at a freight forwarding centre in Coleshill, Birmingham.

The consignment, which had come on a lorry from Istanbul, Turkey, contained two chiller units on wooden pallets, which had been specially constructed to conceal packages of heroin.

On examination by officers each of the pallets was found to contain 15 blocks of high grade compressed heroin, which totalled nearly 18 kilograms of heroin with a potential street value of £1.3million.

The heroin was removed from the pallets by customs officers. The pallets were then reconstructed and sent on to their intended destination in Leicester, being covertly tracked by police.
This led them to Sukie Motors, in Midland Street. Officers carried out a search of the premises on July 27, 2007 and discovered several chiller units and wooden pallets.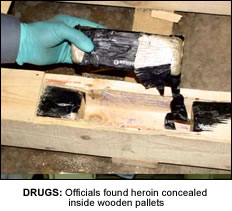 Further investigation by Leicestershire Police identified this was the 10th consignment of chiller units to have entered the country from Istanbul since February 2007. Eight of these consignments contained two chiller units, and two were single machines. They had all been destined for addresses in Leicester.
Rathod was arrested on July 27, 2007 at Sukie Motors as the pallets were delivered. Officers subsequently arrested Bharat Sarasia and Babu Sarasia days later.

Detective Constable Kevin Hames, from Leicestershire Constabulary said: "This was a well organised plot to smuggle large quantities of high grade heroin into the country and onto the streets of Leicestershire.

"The chiller units themselves cost between £2,500 and £4,000 each and were imported purely to cover up the drugs operation. They were not sold on or used for anything. The fact they were happy to spend between £40,000 and £80,000 just on hiding the drugs goes to show the size of the operation."