 Gurpreet Gill a winner at British Asian Hafta Awards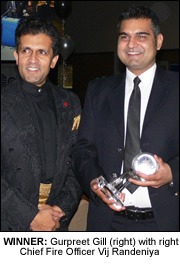 A WEST Midlands Fire Service officer was named "Best Male Employee" of the year at the British Asian HAFTA awards.
Gurpreet Gill, Watch Commander based at Tipton, beat fierce competition to scoop the prize at the ceremony held at New Bingley Hall.
The awards are now in their third year and are an opportunity for the British Asian business community to be rewarded for their hard work and commitment over the year.
Gurpreet received his award having been recognised by the judges as an individual who has used his position to add value to the community and highlight issues affecting the respective community.
"I am absolutely delighted to have won this award. Working with the community is something that I am very passionate about," Gurpreet said.
"As a fire officer we have many important messages which need to be delivered to our communities and sometimes they can be hard to reach for many reasons."
 Preith Shergill, Equality and Diversity Manger, West Midlands Fire Service added: "We are all very proud of Gurpreet. He and his team do some excellent work within their local community and it is testament to this work that Gurpreet has won this prestigious award."