 Daksha Kumar brushes off retirement – and Dragons' Den – to launch a food empire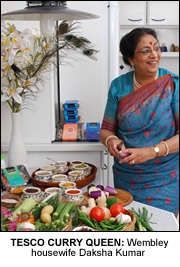 AN Indian housewife from Wembley, Middlesex has launched her very own exclusive range of delicious home-made ethnic food in supermarket giant Tesco – at the grand age of 65.
Daksha Kumar will supply the chain a range of chilled home-style ready-made Indian foods.
So impressive is her home style range that even producers of the hit TV show Dragon's Den couldn't persuade her to pitch her culinary skills to the Dragons.
And her decision to stay out of the Den has paid off, as she launches her vegetarian range, Kitchen Express, her non-veg Halal range, Maryam's and her beverage range, Rani exclusively into Tesco.
Her 50-strong product range of chilled starters, main meals, desserts and beverages is inspired by the food that she prepares at home for her family. 
"Cookery is one of my biggest passions," Daksha says, "and getting handpicked by Tesco to be its sole supplier of chilled Indian food is a huge testament to that passion, especially since the range is inspired by recipes that have been in my family for generations." 
Daksha's gastronomic passion has made her a regular fixture at four of London's major farmers' markets, where she sells her delicious homemade fare to food lovers across the Capital.  
The vibrant packaging of each brand reflects the colourful Indian culture – and her personality – and will be displayed in specially designed fridges. 
Andreas Grammatis, buyer for Tesco's Chilled Ethnic range said: "Tesco's objective has been to launch a range of products that replicate home-made recipes. Our new ranges target our core South Asian customer by serving their shopping needs as well as catering to their personal tastes. Daksha's range of authentic dishes serves this purpose as she has a real passion for home-style quality Indian food and her successful venture in farmers' markets demonstrates her talent in cooking exceptional, home-made Indian dishes." 
The Kitchen Express, Maryam's and Rani range for Tesco includes: Samosas and Dhokra's, Onion Bhaji's and Chilli Paneer in the starters, Daal Makhni, Methi Chicken and Kadhai Fish for mains, Gulab Jamun and Halwa for dessert and Salt Lassi to wash it all down with.
Other products in the Tesco ethnic food range include Tahira, Thamina and Al-Falah cooked meats, Dairy Farm and Dairy Pot yogurts, Shagun Paneer and Cypressa and Taverna cheeses.