 Police hunt on for Shoaib Asif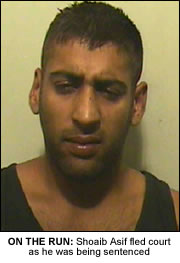 POLICE are hunting a man who leapt the dock and fled out of a packed courtroom as he was being sentenced for assaulting a police officer.
Shoaib Asif has been on the run for over a month after he fled from Sessions House in Preston on 4 September.
He was to be sentenced for causing actual bodily harm to one police officer and a further assault against a second police officer which took place in August 2008.
He was found guilty of both offences, but as he was being sentenced to six months imprisonment by a judge he made his getaway.
Asif jumped over the barriers surrounding the dock and ran from the courtroom into the corridor assaulting a security guard and out of the building.
PC Mohamed Badat of Preston Policesaid the force was keen to apprehend Asif."This is a very serious and rare offence and we are determined to get Mr Asif back before the courts to serve the time for the crimes he has committed."
If anyone has any information as to his whereabouts, please contact police on 01772 203203 or anonymously via Crimestoppers on 0800 555 111.