 Strictly dancer apologies 'unreservedly' over comment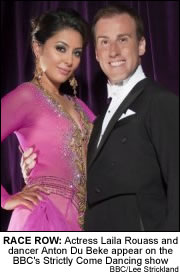 THE BBC has refused to sack Strictly Come Dancing dancer Anton Du Beke after he called partner Laila Rouass a 'Paki'.
The dancer was alleged to have made the remark two weeks ago during a practice session with his on-screen partner, the News of the World reported.
The paper said Rouass, whose mother is Indian and father Moroccan, stormed out of rehearsals following the remark.
It comes after an earlier incident in which Du Beke is alleged to have called Rouass a 'terrorist.
Despite a number of complaints and calls for the BBC to terminate his contract, the corporation backed the dancer after he issued an apology.
"I must say immediately and categorically that I am not a racist, and that I do not use racist language," Du Beke said.
"During the course of rehearsals Laila and I have exchanged a great deal of banter entirely in jest, and two weeks ago there was an occasion when this term was used between the two of us.
"There was no racist intent whatsoever but I accept that it is a term which causes offence and I regret my use of it, which was done without thought or consideration of how others would react. I apologise unreservedly for any offence my actions might have caused."
Actress Rouass also issued a statement saying she had accepted Du Beke's apology and that the couple had "moved on" from the incident.
A statement by the BBC added: "The BBC does not condone offensive language in the workplace. Anton Du Beke has apologised unreservedly to Laila Rouass who has accepted his apology."